Menez votre camp de figurines à la victoire dans ce jeu de stratégie et d'affrontement saisissant !
Mémoire 44 vous invite à découvrir une quinzaine de batailles célèbres de la Seconde Guerre Mondiale. Prenez le commandement de vos troupes et réécrivez les pages de l'Histoire de ces jours décisifs de 1944 !
2 À 8 JOUEURS
ENVIRON 60 MINUTES
À PARTIR DE 8 ANS
DATE DE SORTIE: 2004
EDITION: DAYS OF WONDER
DESCRIPTION
Mémoire 44 est un jeu de plateau avec figurines, à fort contenu historique. Il dépeint de façon simple mais saisissante les batailles de la Deuxième Guerre mondiale.
Simulant des batailles entre alliés et forces de l'Axe, le jeu se joue uniquement à 2 (éventuellement en équipe) et consiste en une suite de déplacement et/ou affrontement qui mèneront à la victoire.
Simple dans ses mécanismes, mais pas simpliste par sa profondeur tactique, Mémoire 44 est un jeu accessible pour découvrir la magie et l'intérêt ludique des jeux de stratégie comme les wargames.
Mémoire 44 bénéficie d'un matériel d'une grande qualité, figurines, éléments de paysages etc., qui rend la simulation saisissante et captivante.Le but du jeu est d'être le premier général à remporter un certain nombre de médailles de Victoire (généralement de 4 à 6, selon le scénario). Une médaille de Victoire est obtenue pour chaque unité ennemie entièrement éliminée. Dans certains scénarios, des médailles supplémentaires peuvent être gagnées en capturant des objectifs précis.
A chaque tour, les joueurs joue une carte qui permet d'activer une unité présente sur le plateau. Chaque troupe a ses propres capacités de déplacement et force d'attaque. Déplacement, attaques, retraite etc, l'ensemble des actions doit respecter des contraintes qui rendent le jeu assez tactique et stratégique sans que la difficulté en fasse un jeu trop complexe.
Les combats sont résolus avec des dés ce qui implique une part de chance et d'audace. Les parties de Mémoire 44 sont courtes et dépassent rarement 1 heure.
CARACTÉRISTIQUES
Auteur(s) Richard Borg
Illustrateur(s) Cyrille Daujean, Julien Delval, Don Perrin, Claude Rica
Éditeur(s) Days Of Wonder
Langue(s) Français
Prix moyen 49,50€
MATÉRIEL
1 plateau de jeu double face, 17 scénarios, 60 cartes de commandement, 144 figurines, 44 hexagones de terrain, Des cartes d'aide de jeu et des portes cartes, 1 règle du jeu
[ngg src="galleries" ids="44″ display="basic_slideshow" gallery_width="250″ gallery_height="250″ transition_style="slide"]
Suppléments et extensions
Winter Wars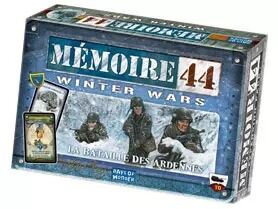 Avec l'extension Winter Wars, vous voilà sur le point de livrer l'une des batailles les plus farouches de la guerre. Après cinq années de conflit et par un froid mordant, vos soldats se préparent au combat. Cette extension, aussi indispensable qu'un pack de rations pour un soldat, vous permettra de trouver tout ce qu'il faut pour mener de grandes offensives dans des environnements enneigés !
Faisons le point sur votre équipement : * 88 tuiles de terrain d'hiver double-face, 28 badges d'unités spéciales, 20 marqueurs et 16 obstacles * 20 cartes de Combat d'Hiver * 80 cartes Breakthrough spécialement dédiées à ce mode de jeu * De nouvelles unités : chasseurs de chars, canons antichars lourds, et règles de Matériel propres à la fin de la guerre (arme antichar, mortier et mitrailleuse).
Cet équipement vous sera indispensable pour livrer bataille sur les dix scénarios proposés dans cette extension, retraçant les deux semaines cruciales de la bataille des Ardennes lors de l'hiver 1944.
Les six premiers scénarios sont des scénarios standard et ne nécessitent que le jeu de base et cette extension (bien qu'utiliser un plateau Hiver/Désert rendra l'ensemble plus esthétique).
Les quatre scénarios suivants sont des scénarios Breakthrough de la bataille des Ardennes. Ils nécessitent en plus de cette extension un exemplaire du Front Est et un plateau Breakthrough.
Opération Overlord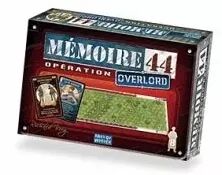 Opération Overlord est une extension au jeu de plateau Mémoire 44.
Opération Overlord vous envoie en première ligne revivre les batailles les plus marquantes de la Seconde Guerre mondiale. Avec jusqu'à 4 joueurs par camp, vous intégrerez une chaîne de commandement militaire classique, une expérience unique dont vous découvrirez les avantages et les inconvénients.
Cette extension est destinée à être utilisée avec notre série de plateaux pré-imprimés "Battle Maps – Overlord", vendus séparément. Elle contient tout le matériel adapté pour jouer des parties en format Overlord avec un seul exemplaire du jeu de base Mémoire 44.
Théâtre Pacifique
Mémoire 44 – Pacific Theater vous emporte des jungles de Birmanie occupées par les Japonais jusqu'aux rivages désolés d'atolls oubliés.
La Guerre du Pacifique vous fait découvrir de nouvelles unités (Chindits, forces spéciales japonaises Giretsu, US Marines), des nouvelles armes (artillerie mobile, blindés lance-flammes), de nouveaux terrains et équipements (ponts de corde, porte-avions, destroyer, cavernes…), de nouvelles figurines (infanterie japonaise, blindés légers Ha-Go et canons anti-aérien de 75 mm), et bien plus encore…
Revivez quelques unes des batailles les plus féroces de la Deuxième Guerre mondiale comme Iwo Jima ou Okinawa ! Utilisez de nouvelles règles, comme le cri de guerre japonais "Banzaï" ou l'appel de ralliement des Marines "Gung Ho" !
Pacific Theater fait partie de la série des Army Packs qui introduisent de nouvelles figurines, nations et tactiques dans le système de jeu Mémoire 44. Chaque extension explore un théâtre d'opération géographique différent et vous permet de déployer vos troupes sur les champs de bataille tout autour du globe. En plus des figurines finement sculptées, ces extensions vous apportent de nouveaux hexagones de terrains, des règles spéciales et de nouveaux scénarios qui les utilisent !
Théâtre Méditerranéen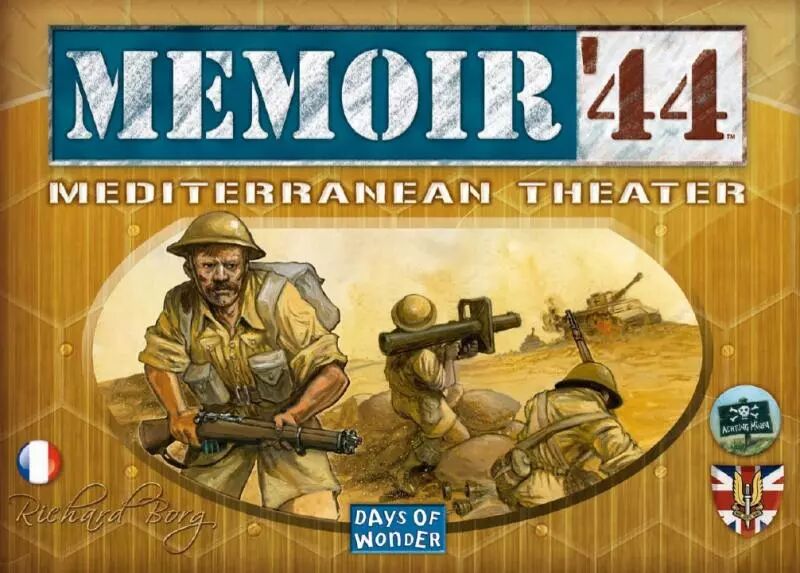 Mémoire 44 – Théatre Méditerranéen vous emporte là où peu de nations avaient imaginé devoir combattre lorsque la guerre débuta.
L'esprit de commandement, l'ingéniosité et la résolution de ces hommes qui combattaient dans des conditions si difficiles nous sont rapportés par l'Histoire. Plus que toute autre armée, ce sont les forces britanniques du Commonwealth, fortes de leur présence aux quatre coins du monde, qui possédaient ces qualités !
Découvrez 8 scénarios historiques : depuis le désastre de l'Opération Battleaxe de la passe de Halfaya jusqu'au siège de Tobrouk de l'Opération Crusader, revivez les combats du désert… la terrible et interminable bataille de Gazala s'étend sur 5 scénarios !
New Flight Plan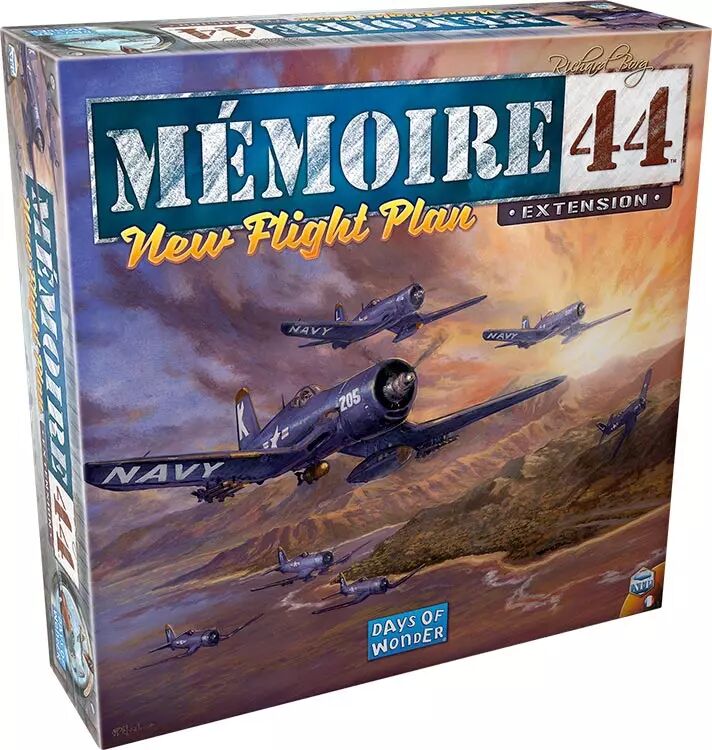 La suprématie aérienne fut un défi permanent de la Seconde Guerre mondiale. Lors de la bataille de France, les puissants Stuka de la Luftwaffe jouèrent un rôle-clé dans la Blitzkrieg qui donna la victoire aux Allemands. Au-dessus de la Manche, l'héroïsme des pilotes de la RAF sauva leur pays de l'invasion. Dans les cieux de Koursk, Smolensk ou Stalingrad, de nombreux pilotes soviétiques défendirent leurs terres contre les bombardiers ennemis. Au-dessus des îles du Pacifique, les chasseurs américains durent livrer un combat désespéré pour tenir face aux puissants Zero japonais. Et lorsque les forces alliées débarquèrent en Europe, ce fut sous une couverture constante de chasseurs, chasseurs-bombardiers et bombardiers. La suprématie aérienne des Alliés était alors totale.
Avec l'extension New Flight Plan, envoyez vos bombardiers contre des objectifs stratégiques, mais faites attention à la chasse adverse ! Lancez vos chasseurs-bombardiers pour appuyer vos troupes au sol ! Les nouvelles règles aériennes vous offrent de nombreuses options tactiques dont vous pourrez faire bon usage dans les scénarios proposés. Mais vous pouvez aussi les utiliser dans tous les scénarios parus à ce jour, sur tous les théâtres d'opérations, pour apporter une nouvelle dimension à vos parties de Mémoire 44 !
Front de l'Est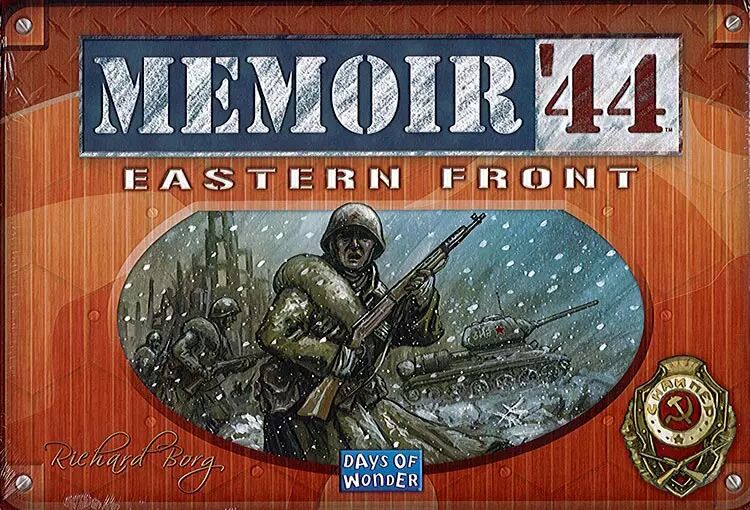 Depuis les rivages gelés du lac Ladoga jusqu'aux ruines fumantes de Stalingrad, revivez quelques-unes des batailles les plus intenses de la Deuxième Guerre mondiale, où des groupes entiers d'armées disparurent plus rapidement qu'un simple bataillon sur les plages de Normandie.
Cette extension fait suite au Terrain Pack. Alors que le Terrain Pack est consacré à de nouveaux terrains et à de nouvelles règles, l'extension du Front Est évoque quelques-unes des batailles féroces menées entre les forces allemandes et soviétiques.
Dans la jungle et le Désert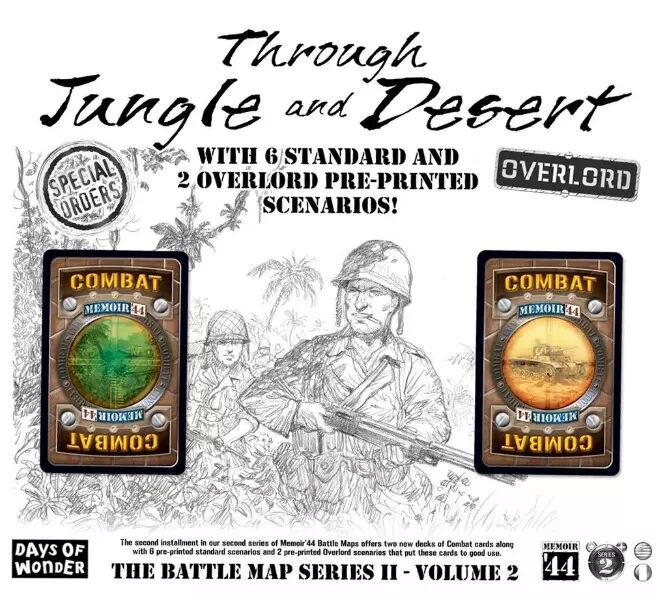 Le deuxième volume de notre deuxième série de Battle Maps pour Mémoire 44 propose deux nouveaux paquets de cartes Combat ainsi que 6 scénarios standard et deux scénarios Overlord pré-imprimés qui les mettront à l'épreuve.
Dans la jungle… Menez vos hommes à travers les denses jungles de la Birmanie pour échapper à l'emprise des forces japonaises, ou à leur tête, tentez d'atteindre Rangoun avant que les Britanniques ne s'en échappent. La jungle est peut-être votre pire ennemie ! …
et le désert… Revivez la toute première bataille de chars entre les Stuart américains et les Panzer allemands dans le désert d'Afrique du Nord. Cachez vous derrière les crêtes, surprenez votre ennemi, et la victoire sera à vous !
Deux scénarios Overlord préimprimés sont aussi proposés dans cette extension : Guadalcanal, où vous lutterez pour le contrôle de la piste Henderson, un objectif stratégique de grande valeur ; et Opération Lightfoot, un gigantesque affrontement dans le désert qui marque le début de la seconde bataille d'El-Alamein. Les nouvelles cartes Combat de Jungle et Combat du Désert apportent de quoi renouveler votre expérience de Mémoire 44, et peuvent même être utilisées dans d'autres scénarios de Mémoire 44 !
Contenu : 6 scénarios standards, 2 scénarios Overlord et leurs éléments de jeu (cartes, règles, etc.)
Bataille de Khalkin-Gol
Ce premier volume de notre deuxième série de Battle Maps pour Mémoire 44 propose une campagne complète de 6 scénarios standards auxquels peuvent s'ajouter les deux scénarios BreakThrough pré-imprimés de cette extension : La bataille de Khalkhin-Gol.
La bataille de Khalkhin-Gol est en fait une série de batailles livrées le long de la rivière Halha (Khalkhin-Gol) à la frontière soviéto-japonaise, au tout début de la Seconde Guerre mondiale. La 6e Armée Japonaise faisait face au 57e Corps Spécial Soviétique, comprenant notamment des unités de cavalerie mongole. Parti de simples escarmouches, le conflit évolua rapidement vers une guerre ouverte. La campagne ne dura cependant que 5 mois à peine, et se termina sur une victoire soviétique.
Les six scénarios standard de cette extension peuvent être joués séparément ou au sein d'une campagne, où chaque victoire ou défaite aura une influence sur le scénario suivant.
Les scénarios Breakthrough, Hauteurs de Bain Tsagan et Le marteau et l'enclume, peuvent être joués dans la campagne, de même que l'un des deux scénarios Overlord, Encerclement à Khalkhin-Gol.
Le second Overlord, Cap Torokina, ne fait pas partie de la campagne – il a lieu beaucoup plus tard pendant la guerre, et décrit la farouche bataille du Cap Torokina entre les US Marines et les forces japonaises.
L'extension comprend aussi 6 automitrailleuses soviétiques BA-10 et 6 chenillettes japonaises Type 97 "Te-Ke". Ces figurines sont mises à l'honneur dans les scénarios de la campagne.