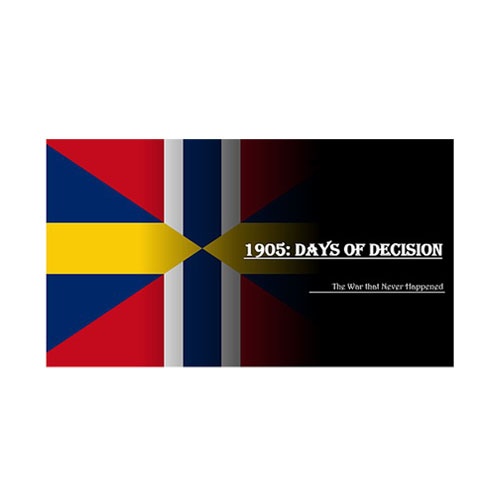 1905: Days of Decision est le troisième jeu de la trilogie The Scandinavian Wars de Pantero Games. Le jeu est une analyse au niveau stratégique de la guerre potentielle qui aurait pu se produire lorsque l'union entre la Norvège et la Suède a été dissoute en 1905.
– 1 A 4 JOUEURS
– 12 ANS ET PLUS
– ENVIRON 120 A 180 MINUTES
– SORTI EN 2020(vo)
– PRIX MOYEN CONSTATÉ 46,15€
PRÉSENTATION DE L'ÉDITEUR
1905: Days of Decision utilise le même ensemble de règles de base que les autres jeux de la série et a également quelques règles distinctes pour tenir compte de la période et du type de guerre au début des années 1900. Les unités représentent des bataillons et des régiments, avec quelques escadrons de cavalerie et de dragons portés.La carte représente la zone frontalière du sud de la Norvège et de la Suède, de Trondheim à Göteborg. Le jeu comprend également un ensemble de règles et d'unités navales, pour tenir compte du fait que les deux marines ont été mobilisées et ont été modernisées fortement avant 1905.
En tant que joueur suédois, votre objectif est de garder la Norvège dans l'union en capturant Christiania, de prendre le contrôle des forteresses frontalières et de forcer le parlement norvégien à démissionner ou à accepter une union continue et renouvelée.En tant que joueur norvégien, votre but est de retenir les Suédois assez longtemps, et de causer assez de victimes pour que le roi Oscar II ordonne aux forces suédoises de se retirer et d'entamer des négociations.
CRÉDITS
Auteur(s): Kai ISAKSEN et Erik A. PLOUGH
Illustrateur(s): David PRIETO
Cartographe(s): N/A
Éditeur(s): Pantero Games
Distributeur(s): Pantero Games
LANGAGES
CARACTÉRISTIQUES
Type(s): Wargame
Thème(s): XXe siècle
Mécanique(s): Simulation / Contrôle de zone / Mouvement de zone
Complexité:

INITIÉ
SUR LE NET
N/A
MATÉRIEL (LIVRE DE BASE)
300 pions
1 cartes papier glacé
1 livret de règles de base
1 dés à 6 faces
VIDÉO
N/A
GALERIE
RESSOURCES
N/A
L'AVIS DU STAFF
N/A