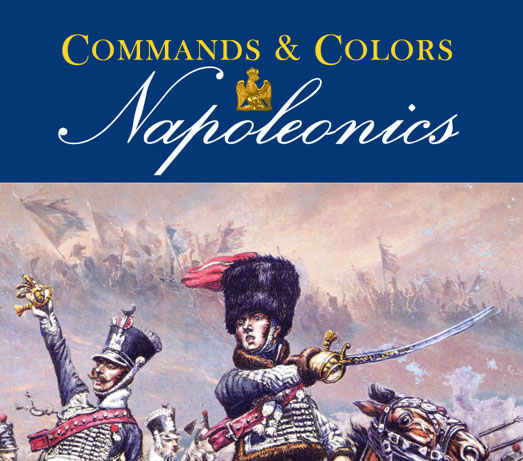 Dans cette page dédiée à Commands and Colors: Napoleonics vous trouverez les traductions françaises de la règle originale mais aussi des différentes extensions disponibles, certaines étant réalisées par le staff d'I Guerrieri, donc non officielles. Egalement présents, les tableaux d'aides de jeu en français.
1/ COMMAND AND COLORS: NAPOLEONICS
La traduction en français de Commands and Colors: Napoleonics, par Pascal Dumas
Les aides de jeu de la règle de base
Les cartes de commandement en français.
2/ COMMAND ANDS COLORS: NAPOLEONICS EXPANSION #1 – THE SPANISH ARMY
La traduction en français de l'extension 1 – l'armée espagnole, par Nicolas Lamberti
Les aides de jeu de l'extension 1
3/ COMMAND AND COLORS: NAPOLEONICS EXPANSION #2 – THE RUSSIAN ARMY
La traduction en français de l'extension 2 – l'armée russe, par Nicolas Lamberti
Les aides de jeu de l'extension 2
4/ COMMAND AND COLORS: NAPOLEONICS EXPANSION #3- THE AUSTRIAN ARMY
La traduction en français de l'extension 3 – l'armée autrichienne, par Nicolas Lamberti
Les aides de jeu de l'extension 3
5/ COMMANDS ANDS COLORS: NAPOLEONICS EXPANSION #4 – THE PRUSSIAN ARMY
La traduction en français de l'extension 4 – l'armée prussienne, par Nicolas Lamberti
Les aides de jeu de l'extension 4
6/ COMMAND AND COLORS: NAPOLEONICS EXPANSION #5 – GENERALS, MARSHALS, TACTICIANS
La traduction en français de l'extension 5
Les cartes de commandement en français de l'extension 5
7/ COMMANDS AND COLORS: NAPOLEONICS EXPANSION #6 – EPIC NAPOLEONICS
La traduction en français de l'extension 6
8/ LE GÉNÉRATEUR DE BATAILLE
Le générateur de bataille pour Commands & Colors: Napoleonics
9/ LISTE D'ARMEE TURCS OTTOMANS "NOUVEL ORDRE"
La liste d'armée non officielle des Turcs Ottomans 1798-1820
10/ REGLE DE CAMPAGNE
Règle de campagne tactique 1805-1815
11/ LISTE D'ARMEE DU ROYAUME-UNI DE HOLLANDE