Hier soir, chez I Guerrieri, l'adaptation maison de la célèbre série de wargames Hold the Line était soumise à son baptême du feu. Le but étant de compenser l'absence de la période dans la gamme Commands and Colors, règle pratiquée dans le club pour les périodes antiques, médiévales, napoléoniennes et guerre civile américaine (avec le module North vs South).
Les parties, qui se sont déroulées sur une surface de jeu composées de dalles d'hexagones de 10cm de la marque britannique Hexon, ont laissé apparaître un système fluide, étonnant (pas de jets de sauvegarde) mais reflétant bien l'atmosphère des batailles du XVII° siècle, plus particulièrement avec les quelques modifications (disons plutôt « peaufinages ») apportées par l'usage des différentes extensions officielles et quelques ajouts « intra-club ».  Bref, l'avis a semblé unanime sur l'avantage de l'utilisation de surfaces de jeu à hexagones, qui laisse plus de temps à la réflexion tactique, les mouvements étant considérablement simplifiés.
A noter que Hold the Line Deluxe sera très prochainement téléchargeable sur le site de l'Anspessade (le temps d'effectuer quelques petits ajustements et d'apporter quelques précisions sur des points qui nous sont apparus comme un peu flou.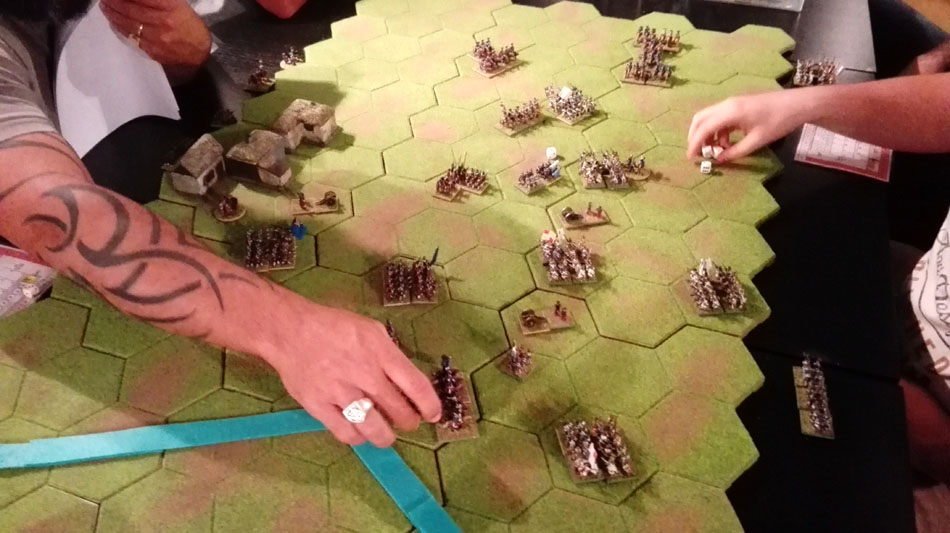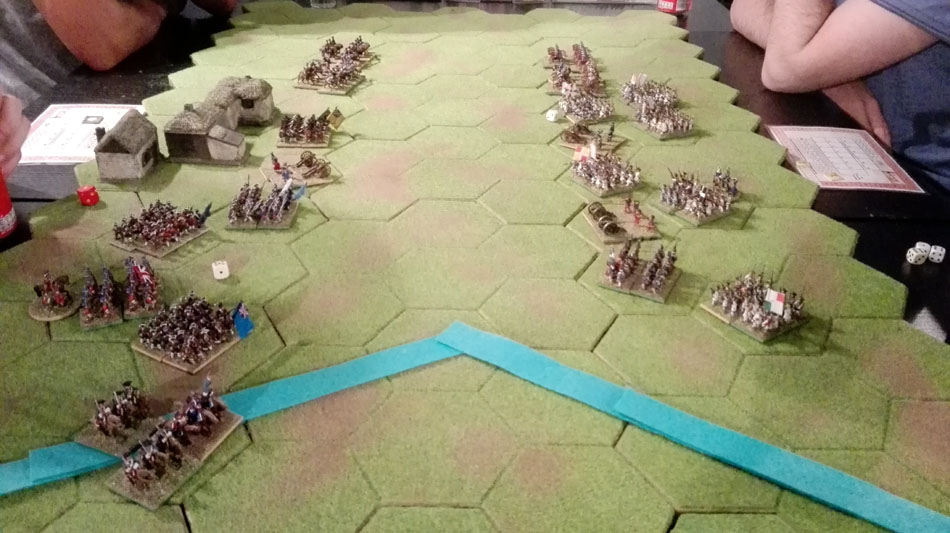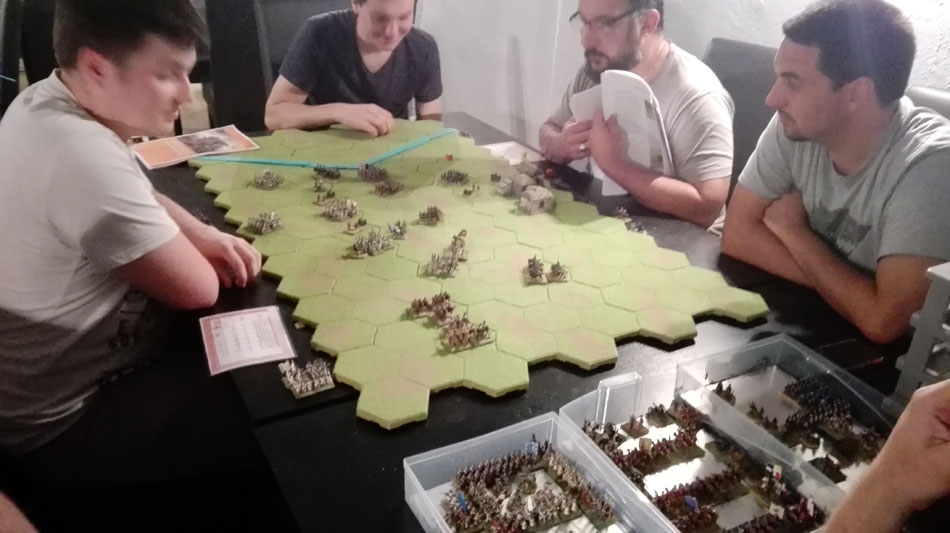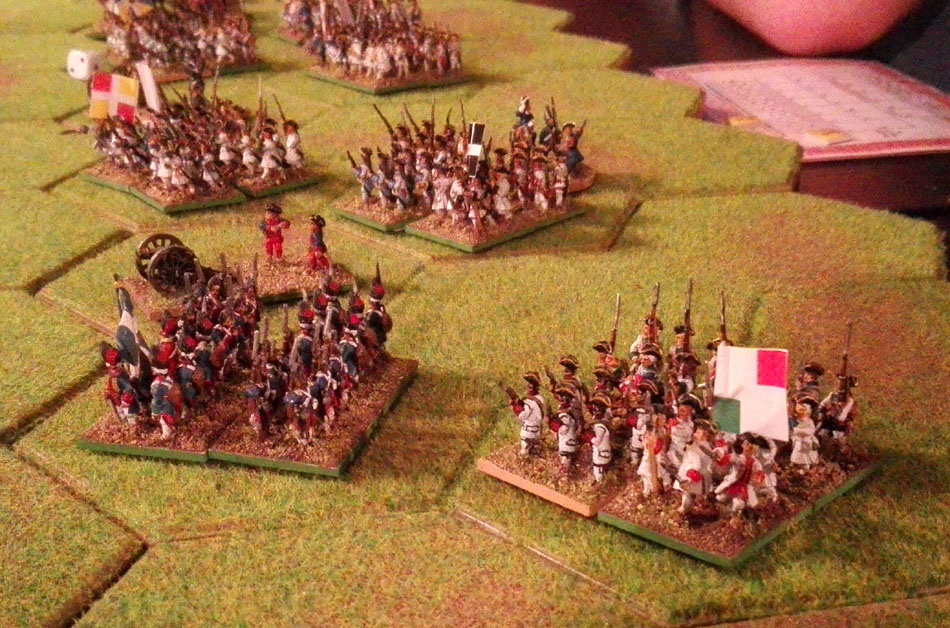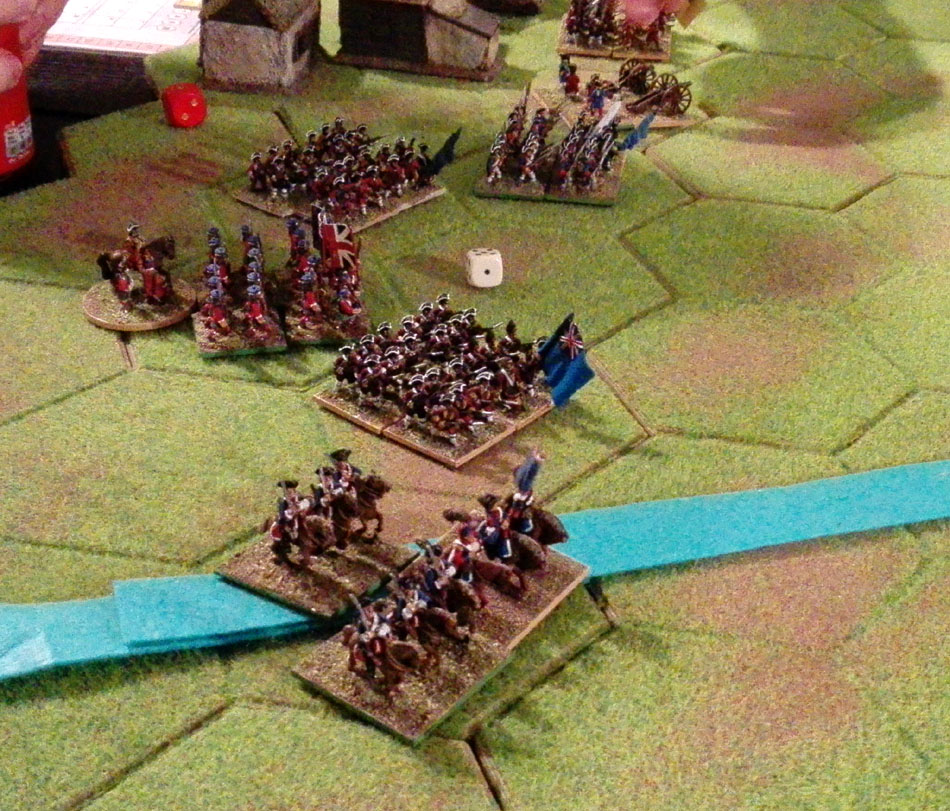 La deuxième partie de soirée a vu,   jusqu'à très tard dans la nuit, une bande de survivants aventuriers s'évertuer en vain à trouver deux pommes et deux saucissons dans une cité envahie de zombies. Oui, monsieur, parce que le carreau d'arbalète ou l'épée longue, cela ne nourrit pas son homme !