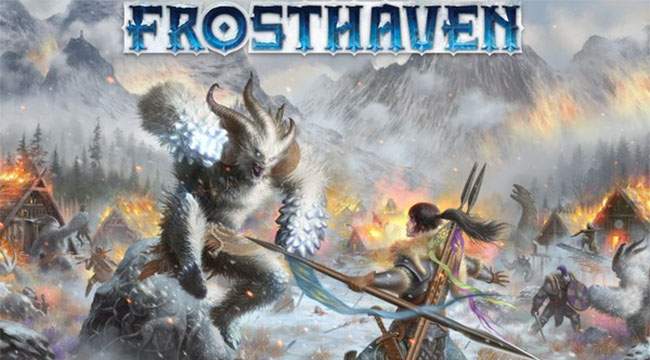 Winter is Coming, selon Cephalofair Games. Mais cela ne sera pas pour tout de suite.
En effet, l'éditeur de Gloomhaven a officiellement annoncé ce weekend au PAX Unplugged de Philadelphie Frosthaven, la future séquelle de son célèbre dungeon crawling.
L'histoire se déroule au nord de la capitale de White Oak. Dans cette région enneigée, les choses ne vont pas trop bien. En plus d'être une immensité gelée et inhospitalière, il s'y passe des choses qui peuvent être entraîner la destruction totale de la petite colonie. Pour nos héros, c'est bien entendu le lieu idéal pour y acquérir renommée et richesses.
Voici le communiqué de l'éditeur diffusé au PAX Unplugged
Je sais, je sais, nous venons d'annoncer Jaws of the Lion (ndt: une version allégée de Gloomhaven, prévue pour 2020), et maintenant il y a aussi ça! Un tout nouveau Gloomhaven! Euh! Ou je veux plutôt dire Frosthaven.
Alors que Jaws of the Lion vise à attirer de nouveaux joueurs dans le monde de Gloomhaven, Frosthaven est une chance de raconter une autre histoire épique à la même échelle que le jeu original, avec la même complexité et la même grandeur. Il s'agit de Gloomhaven 2.0, avec 16 nouveaux personnages, plus de 25 nouveaux ennemis, plus de 100 nouveaux objets, quelque 100 nouveaux scénarios et bien plus encore.
Alors pourquoi Frosthaven? Eh bien, c'est le nom d'un petit avant-poste loin au nord de la capitale, White Oak. Là, un groupe de mercenaires un peu blasés aidera à sauver cette colonie au bord de la destruction. Non seulement ils devront faire face à la dureté des éléments, mais il y a aussi d'autres menaces bien plus dangereuses dans le froid impitoyable.
Il y a des Algox, les plus grands cousins ​​des Inox, qui ressemblent davantage à des yétis, et qui attaquent depuis les montagnes, des Lurkers affluent de la mer du Nord et il y a même des rumeurs d'étranges machines qui errent de leur plein gré dans les déchets gelés. Le groupe de mercenaires doit faire face à tous ces périls, et peut-être, ce faisant, faire la paix avec ces nouvelles races afin qu'ils puissent travailler ensemble contre des forces encore plus sinistres.
Evidemment, pas de date de sortie annoncée..