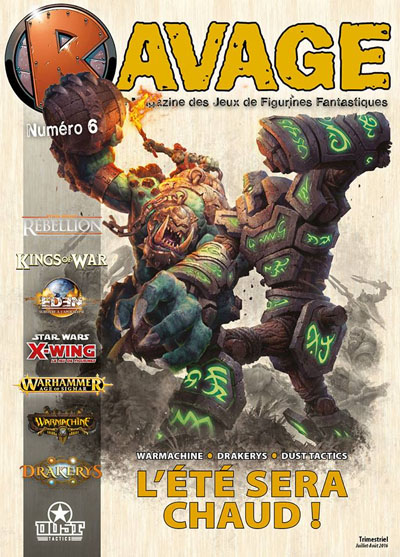 Samedi matin, dans ma boîte aux lettres, m'attendait une heureuse surprise : le nouveau numéro de Ravage ! Cool, pensais-je alors. J'allais pouvoir occuper intelligemment les nombreux moments d'inactivité, les monstrueux trous noirs, qui marquent les périodes séparant chaque match de l'Euro 2016. Quant à savoir si cette lecture allait contribuer à maintenir mon QI à un niveau se situant au-dessus de celui d'un hooligan aviné en villégiature sur le Vieux Port de Marseille, tout cela est une autre histoire…
Ce nouveau Ravage, autant vous l'annoncer tout de go, est une sacrée bonne cuvée. Du moins, elle correspond à mes goûts, qui tendent vers un certain éclectisme. Alors, certes, un confortable espace est offert, une nouvelle fois, à la perfide Albion avec l'éditeur Games Workshop, avec des articles sur Warhammer 40K, Age of Sigmar et Deathwatch Overkill. Cela pourrait sembler étonnant quand l'on sait l'ingratitude de l'éditeur envers les médias (Stéphane Louis, le rédacteur de l'article sur Age of Sigmar, ne manque pas de le faire remarquer), mais il est vrai qu'il est difficile d'éviter de traiter de ces jeux énormément pratiqués dans l'Hexagone. Néanmoins, quand l'on observe la revue dans son ensemble, on peut prendre conscience que l'équipe rédactionnelle de Ravage « Respawn »continue sur ce bel élan initié « jadis » par Léonidas Vespérini et poursuivi par Olivier Noel , qui est de faire son maximum pour couvrir du mieux possible le Hobby, n'hésitant pas à franchir parfois les frontières du jeu de plateau et du wargame. Mieux vaut pécher par excès que par défaut.
Ainsi, si tous les articles de ce nouvel opus de Ravage, fort de 130 pages, ne m'ont pas particulièrement passionnés (loin s'en faut), j'y ai largement eu mon content. Les rubriques Actualités et Jeux m'ont fait découvrir des produits dont j'ignorais jusqu'alors l'existence : Drakerys ; Taskforce Firestorm Armada ; Space Cadet. Vous me direz, l'information utile, c'est l'une des raisons d'être de la presse spécialisée. En plus de l'article de fond, bien évidemment. J'ai également apprécié ce choix audacieux, qui est l'insistance à offrir des colonnes à des jeux plus confidentiels, comme Fury, Infinity, Malifaux ou Alkemy. Parmi eux, deux (Infinity et Alkemy, que j'ai pratiqué occasionnellement), au moins, sont excellents et méritent d'être soutenus. Descriptifs de parties, scénarios et analyses dédiées, autant de textes qui contribuent à la survie de ces jeux cherchant à se tailler une place à l'ombre des « géants » – Games Workshop, Star Wars (présent, ici, avec un énorme dossier X-Wings) et Privateer Press – aux côtés d'Eden, Kings of War ou Dust Tactics (trois jeux qui bénéficient toujours de places de choix dans les numéros de la revue) et des hits du moment. Parmi ces derniers, on peut citer l'inévitable Zombicide et les produits Studio Tomahawk (dans ce numéro, Le réveil du seigneur Liche, une campagne pour Frostgrave, et une présentation de Congo, le prochain jeu de l'éditeur).
Pour le wargamer que je suis, par contre, pas grand-chose à se mettre sous la dent. En même temps, Ravage c'est encore, comme le spécifie sa couverture, « le magazine des figurines fantastiques », alors le jeu d'Histoire et le wargame historique, cela reste, et doit rester, une discipline marginale. Cependant, j'aime bien la manière dont la rédaction aborde ce domaine, bien différente, plus « geek » serais-je tenté de dire, que Vae Victis, magazine qui reste la référence dans le secteur du jeu d'Histoire francophone (vous me direz qu'ils n'ont pas trop de mal vu qu'ils sont les seuls). Ainsi, j'ai littéralement adoré l'article sur Cry Havoc, qui retrace l'histoire du jeu et présente sa nouvelle version. Au-delà du phénomène « madeleine de Proust », le texte enflammé d'Emmanuel Bire a carrément redonné un souffle épique à ce vénérable wargame. Du coup, à peine la lecture de l'article achevée, je me suis planté devant mon ordinateur pour découvrir le site Internet cryhavocfan.org !
A côté de cela, pour ce qui de la gestion « à la figurine », autrement dit au jeu d'escarmouche, il semblerait que la rédaction ait craqué pour Bolt Action puisque ce numéro 6 consacre un nouvel article au jeu de Warlord Games avec la présentation d'une liste d'armée (les parachutistes allemands). Ravage nous invite également à découvrir Ronin, une règle en anglais éditée par Osprey destinée à reconstituer les affrontements entre les seigneurs de la guerre durant le sengoku Jidai. Intéressant.
J'ai également bien apprécié le sympathique petit entretien avec Nicolas, de ZBB Edition, initiateur du projet DBA en version française. Un, parce j'aime beaucoup cette règle d'initiation au jeu d'Histoire, allant jusqu'à en faire une traduction officieuse dans le cadre de son utilisation en club. Deux, parce que je participe (très modestement, on dira plutôt que je suis supporter) à la genèse du produit. Mais aussi parce que de tels articles (comme celui, dernièrement, sur Art de la Guerre) au sein d'un magazine comme Ravage, contribue à briser les barrières entre joueurs d'Histoire et joueurs à figurines historiques, un travail que, nous, fans du hobby, effectuons toutes les semaines au sein de nos associations respectives. Et cela est des plus appréciables… et apprécié.
Enfin, du côté des jeux de plateau et des jeux hybrides, ce numéro consacre quelques pages à vanter les mérites de B-Sieged, du pur Tower Defense, avec de superbes figurines (CMON) ; de Battlelore, avec la présentation d'un nouvel Army Pack (Terror of the Mists) et du monster game Star Wars Rebellion (Fantasy Flight Games).
Bon, ceci étant dit, je m'en vais couper des hexagones en polystyrène expansé tout en matant Espagne – République Tchèque. Olé !
Ravage – numéro 6 (Edition du Tournon -2016)
Trimestriel
Juillet-août 2016
130 pages