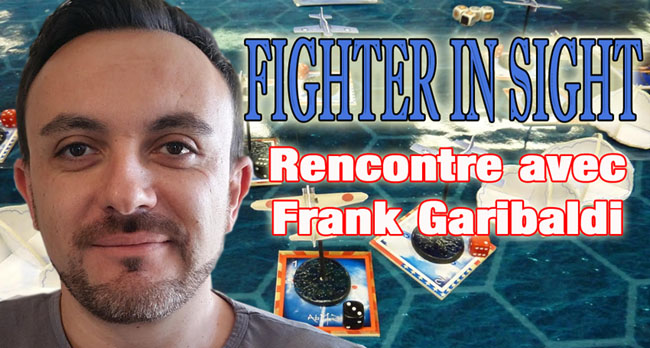 On peut en dire ce que l'on veut, les réseaux sociaux, parfois, cela permet, au hasard des posts, de découvrir des choses aptes à enrichir nos passions. C'est ainsi que, grâce à Facebook, j'ai fait la connaissance de Frank Garibaldi, le créateur de Fighter in Sight, un jeu de combat aérien ayant pour cadre la seconde guerre mondiale. Vous imaginez que cela n'a pas manqué d'éveiller ma curiosité. J'ai donc pris contact avec le monsieur, qui, avec gentillesse, a accepté de m'en dire plus sur ce wargame très prometteur.
L'Anspessade : Bonjour Frank, en quelques mots, peux-tu nous résumer un peu ton cursus professionnel, et comment en es-tu arrivé à te lancer dans la création de jeu ? Tu portes le nom d'un célèbre général, alors une sorte de prédestination ludique ?
Frank Garibaldi : Bonjour, J'ai démarré la vie professionnelle très tôt à l'âge de 16 ans. Les études n'étant pas ma grande passion, je me suis vite retrouvé dans un lycée professionnel, dans l'hôtellerie. A 30 ans, j'avais besoin de changer d'air, de faire un travail plus technique. J'ai donc remis les pieds dans les études pour devenir électromécanicien. En parallèle, depuis des années, je bossais sur un projet qui allait devenir plus tard « Fighter in Sight.«
Je ne sais pas si c'est de s'appeler « Garibaldi » qui a éveillé mon côté révolutionnaire et guerrier ! Ce que je sais, c'est que je me suis toujours intéressé à l'histoire des guerres, des tactiques et que je me sens très indépendant dans la vie. Je n'ai jamais aimé rentrer dans un moule.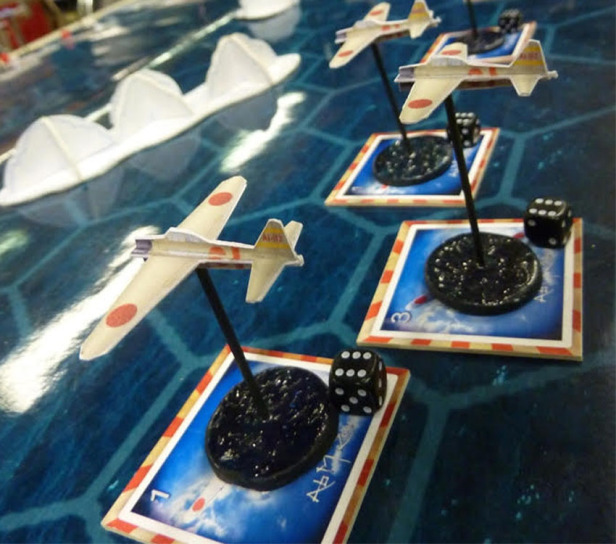 ANS. Raconte-nous un peu la genèse de Fighter in Sight. Et quels sont les éléments qui le distinguent d'un hit comme Wings Of War, que les amateurs de combats aériens connaissent bien.
FG : Depuis toujours je suis passionné par la seconde guerre mondiale. Donc pour moi, réaliser un jeu sur ce thème allait devenir une évidence. Fighter in sight est née grâce à ma passion pour l'aviation et aussi grâce à un jeu de simulation de combat aérien IL2 (pour ne citer que lui) sur PC et console. Une source qui a contribué à ma création.
Je ne connais que de nom wings of war et wings of glory. Je n'ai malheureusement jamais eu l'occasion d'y jouer. Je serais donc incapable de réaliser une comparaison entre ce jeu et Fighter in sight.
Ce que je peux dire sur Fighter in sight c'est qu'il propose : un plateau de jeu avec hexagone de 70×70, un système de points de manœuvres aériennes selon le type d'appareil, une gestion des dégâts critiques qui agissent sur l'avion, la possibilité de créer son pilote ou de jouer un pilote historique avec ses règles spéciales, la possibilité d'améliorer les appareils, l'équipement, la gestion d'altitude ou non et je termine en disant qu'il y a un système de budget pour créer ses propres scénario a 2 ou à plusieurs.
Je laisse les experts de wings of war faire eux-mêmes la comparaison.
ANS. Peux-tu nous faire une synthèse du principe du jeu et de la mécanique que tu as mis en place ?
FG : En termes de mécanique je n'ai absolument rien révolutionné. L'expérience des années de jeux a fait que j'ai pioché des idées par ci par là pour réaliser une mécanique facile à jouer. Un peu comme un musicien qui s'inspire de vieux titres et en reprend des sons, des rifs qui marchent bien sur un public spécifique. Si je reprends un peu le fonctionnement, on retrouve dans le jeu : la phase initiative, la phase activation, la phase de combat, fin de tour.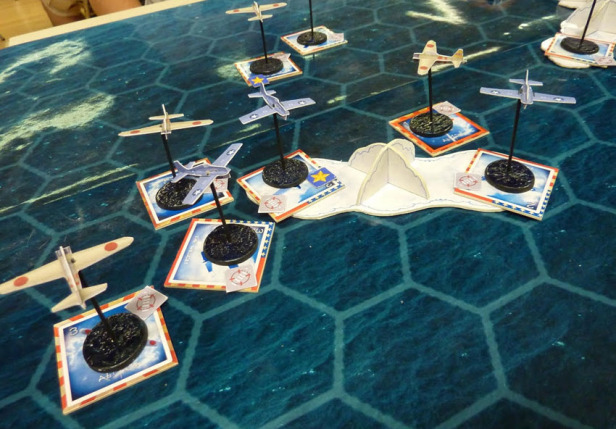 Pour parler plus technique et sans rentrer dans les détails. Quand un avion se fait tirer dessus il a la possibilité d'esquiver les tirs adverses en utilisant ses points de vitesse, sa valeur de blindage. Il peut également réaliser une manœuvre spéciale, pour se repositionner pour le prochain tour, histoire de sortir d'une ligne de tir adverse et être dans une position avantageuse pour passer à l'attaque. Bien sur un Leader aura plus de facilité à se sortir d'une situation avec ses compétences de pilote. De plus, s'il est accompagné par un ailier, il pourra l'envoyer sur son adversaire avant même de se faire attaquer. La mécanique est bâtie sur une interaction permanente dans le jeu avec la présence des leaders, des ailiers, des cartes action que vous pouvez jouer soit en attaque soit en défense selon le type de carte. En gros je fais ça ! Qu'est-ce que tu fais ? Vous n'allez pas trop subir comme dans certains jeux que j'ai pratiqués pendant des années. Un seul mot « interactif «
ANS. Si j'ai bien compris, le jeu permet de reconstituer des combats aériens de style dogfight, est-il envisageable de l'étendre à d'autres périodes et théatres d'opération ? D'ailleurs, est-ce qu'il est prévu des extensions ?
FG : Bien sûr ! Le jeu peut être décliné dans une période plus contemporaine ou futuriste.
Des extensions ? Bien évidemment ! Et pas qu'aériennes. (Navales…)
ANS. Pourquoi avoir choisi le format 3D, est-ce que cela apporte un plus en terme de gameplay ou est-ce purement un atout cosmétique ?
FG : Je dirais les deux. Quand on joue, le jeu en devient plus immersif et nous arrivons mieux à comprendre les situations de combat. De plus, c'est très joli de voir tous ces avions avec les nuages qui les entourent.
FG : Je voudrais finir l'interview en disant que je n'ai pas réalisé le jeu sans un appui littéraire. Il m'a fallu glaner les informations au fur et à mesure de la construction. Toutes les caractéristiques des avions, Les leaders, les batailles ont fait l'objet de nombreuses heures de recherche. Des magazines comme Aérojournal, Los m'ont aidé et m'aident toujours dans mes recherches. Et j'adore des livres comme celui de Frédéric Chamaud et Pierre Santoni « l'ultime champ de bataille combattre et vaincre en ville », beaucoup plus axé sur les troupes au sol.
Et enfin, Fighter in Sight est une sorte d'hommage à tous les combattants « tous pays confondus » de la seconde guerre mondiale. Le courage et la bravoure ont été le maitre mot à cette époque. Mes pensées les accompagnent chaque jour.
---
A noter que Frank Garibaldi sera présent ce weekend à l'Open de Paris des Jeux d'Histoire pour y présenter Fighter In Sight.