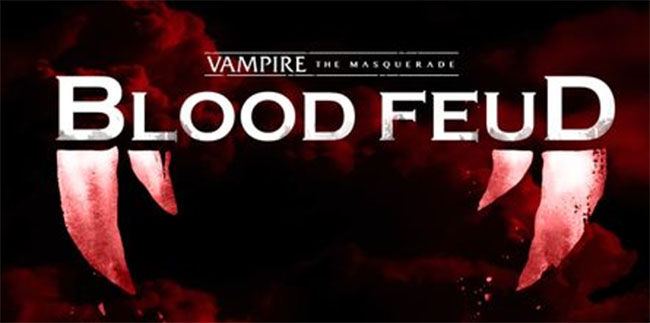 L'éditeur américain EVERYTHING EPIC GAMES souhaite apparemment rendre honneur à son nom ! Il annonce en effet la sortie pour le mois d'octobre prochain ce qu'il désigne sous le terme de MEGA BOARD GAME. Et ce ''méga-jeu'' ne traitera pas de n'importe quel sujet puisqu'il a pour thème l'univers de VAMPIRE : LA MASCARADE et portera le titre évocateur de VAMPIRE : THE MASQUERADE – BLOOD FEUD.
Mais en quoi est-il méga ce jeu ? En fait, il suffit de lire la présentation du jeu par Benjamin KANELOS (son concepteur, qui a déjà œuvré dans le fantastique puisqu'il est l'auteur du jeu de cartes BITTEN, à base de vampires et de loups-garous ) pour s'en convaincre : VAMPIRE : THE MASQUERADE – BLOOD FEUD est un jeu proposant des parties d'une durée moyenne de deux à trois heures, prévu pour un groupe allant de 4 à… 32 joueurs ! Oui, vous lisez bien, garanti sans coquille. En fait, l'éditeur précise que le jeu ne se déroule pas autour d'une unique table (c'est heureux car j'en connais peu pouvant réunir autant de monde!) mais sur deux à quatre tables réparties dans une très grande salle, ou deux pièces séparées. Les joueurs se déplaceront de table en table, chacune représentant un lieu (Conseil, Marché, Zone urbaine…) où ils pourront effectuer des actions particulières, comme acheter des ressources, négocier des alliances, ou combattre.VAMPIRE: THE MASQUERADE – BLOOD FEUD serait-il un jeu sportif? Allumez vos podomètres!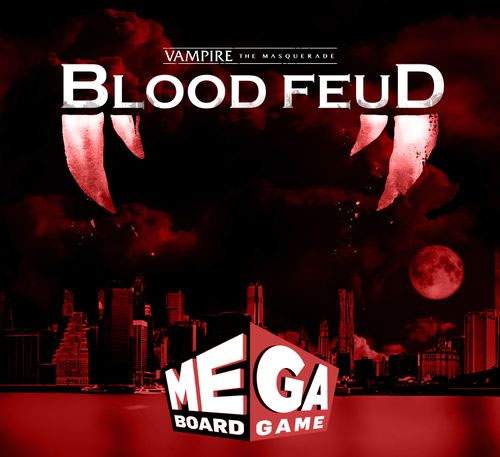 Les joueurs sont invités à incarner des personnages des clans vampires mais ils peuvent aussi choisir des personnages humains, membres de la mafia ou de l'Arcanum. Au fil de la partie, ils verront leurs personnages évoluer, acquérir plus de pouvoirs et de puissance, pour amener leur faction vers la victoire finale. A côté de cela, parmi les participants, il est possible de compter un à deux narrateurs (qui participent également en tant que joueur) car une option narrative permet de développer des histoires scénarisées qui sont fournies avec le jeu et qui s'appuient sur le background de VAMPIRE: LA MASCARADE.
Nul doute que l'on va entendre parler de ce ''méga-jeu''