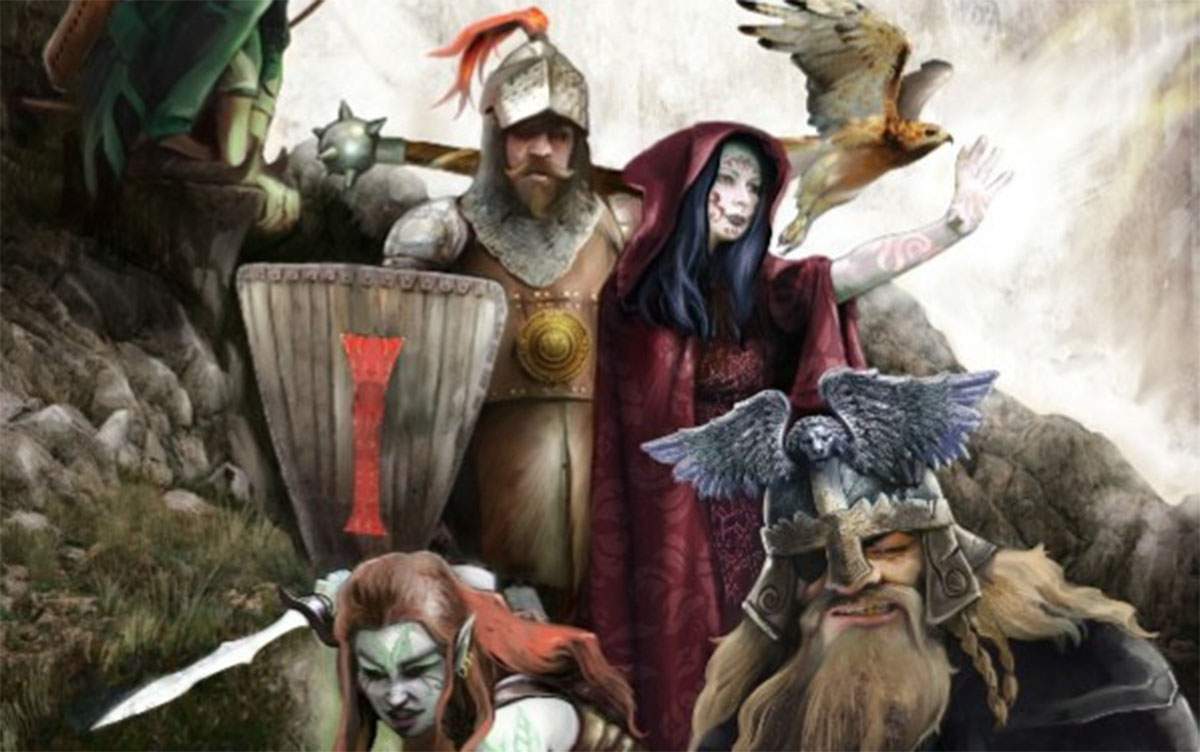 ADVANCED SONG OF BLADES AND HEROES est une règle d'escarmouche pour figurines fantastiques. Il s'agit d'une version ''avancée'' d'une règle plus ancienne, datant de 2008. Elle est adaptée pour toutes les échelles de jeu et tous les types de figurines. Peu importe la taille et le type de soclage, du moment que les adversaires ont adopté la même convention.
Pour jouer, une petite dizaine de figurines par participant suffit, les parties durent moins d'une heure. Chaque figurine se voit personnalisée par seulement quatre caractéristiques : sa Qualité, sa capacité de Combat, un ou plusieurs Traits spécifiques (qui peut amener bonus et malus suivant les circonstances et les environnements) et une valeur en Points. Les règles sont très accessibles, construites sur un principe d'actions-réactions : le joueur actif va désigner une figurine qu'il souhait activer, il va alors lancer, au choix, un à trois dés. Tout score supérieur ou égal à la Qualité de la figurine est une réussite et donne droit à une action, ce qui va lui permettre d'exécuter des manœuvres. Par exemple, un déplacement coute une action ; comme une attaque en mêlée ou un tir normal. Par contre, si le joueur souhaite exécuter une frappe en puissance ou un tir précis, il va devoir dépenser deux actions. Lancer un sort, suivant sa puissance, nécessite une, deux ou trois actions.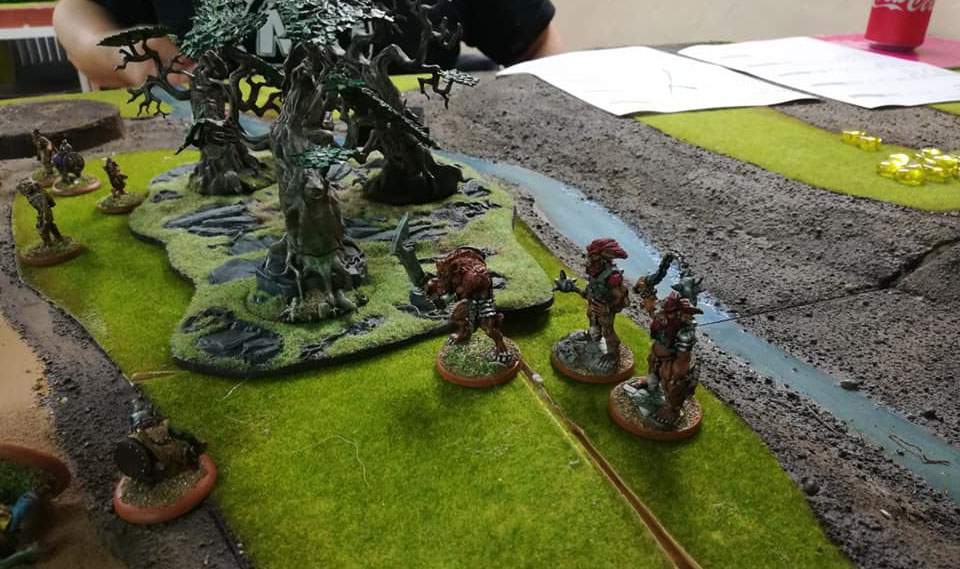 On se trouve donc devant un système classique, d'une grande simplicité. L'originalité se trouve dans le principe de réaction. En effet, le joueur adverse a le droit de ''voler'' les dés qui n'ont pas atteint le score nécessaire lors du jet d'activation pour les relancer immédiatement, afin d'activer une de ses figurines éligible. S'il réussit un ou plusieurs de ces jets, il active sa figurine avec celle du joueur actif ! de plus, si le joueur actif a eu deux échecs lors de son jet d'activation, le joueur passif peut lancer les deux dés comme réaction ou décider de voler l'initiative de son adversaire, mettant fin à son tour. Une mécanique diabolique, qui met, à chaque tour, chaque joueur devant un sacré dilemme : parier sur la vitesse et la mobilité, au risque de voir son tour d'achever prématurément, ou assurer le coup en ne lançant que un ou deux dés, au prix d'une baisse de rendement. Chaque jet de dé est un moment de suspens et l'élément action-réaction contribue à rendre le game-play fluide et agréable.
Pour les déplacements, on continue dans un principe de simplicité. La plupart des figurines se déplacent de la longueur d'une réglette moyenne. Certaines figurines ont une capacité de mouvement longue (réglette longue), et d'autres des capacités de mouvement courtes (réglettes courtes). Traverser un terrain difficile diminue d'un niveau la taille de la réglette, franchir un obstacle entraine le jet de Qualité. La seule contrainte se situe dans les changements de direction ; tous les déplacements s'effectuent en ligne droite, le long de la réglette (sauf si la créature est doté d'un Trait qui contredit cette règle). Un changement de direction demande donc de dépenser deux actions ! Voilà qui ajoute un degré de difficulté quand on souhaite coordonner ses attaques et que l'on doit contourner des obstacles.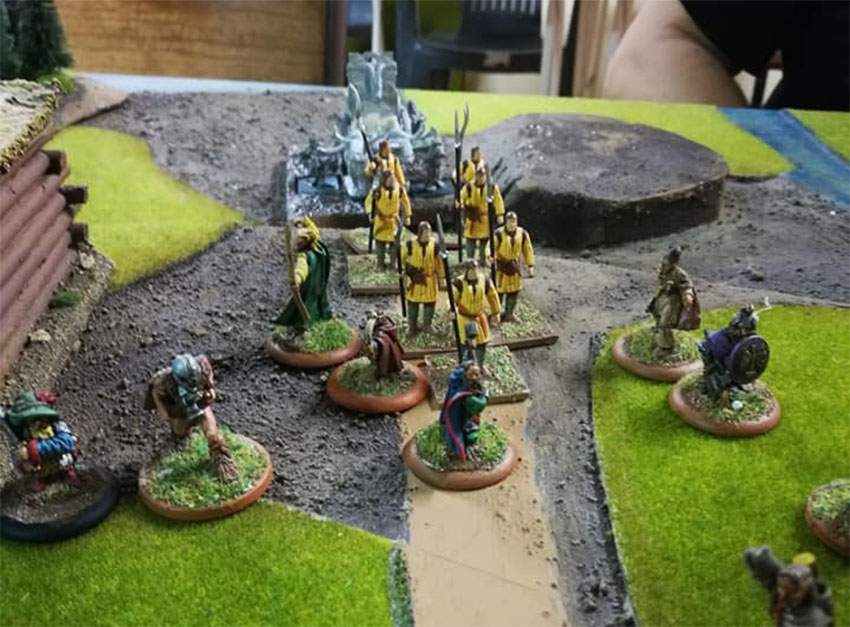 Quand un joueur a dépensé une (ou deux actions) pour entrer en mêlée ou déclencher un tir, les deux combattants lancent un dé et ajoutent à leurs scores la valeur Combat de leurs figurines. Le plus haut score remporte le combat (en cas d'égalité, rien ne se passe). Si le score au dé du vainqueur est un chiffre pair, l'adversaire est repoussé, si le score est impair, l'adversaire tombe au sol (ce qui va générer des malus dans les prochains combats). Si le score du vainqueur est le double de son adversaire, ce dernier est mis hors de combat. Dans le cas de tirs ou de magie, si c'est la cible qui remporte le duel, rien ne se passe. Aussi simple qu'efficace !
Enfin, il y a la notion de test de Moral. C'est un jet brut de Qualité avec trois dés qui décide, après avoir subi de nombreuses pertes, si la bande fuit le champ de bataille, laissant la victoire à son adversaire.
Le livre de règles contient tout le nécessaire pour jouer (même s'il existe des suppléments de contexte). En plus des règles, le livre propose une brève présentation du monde de Norindaal (l'univers du jeu), une longue liste de sorts et d'objets magiques, des profils de personnage, un bestiaire et un système de campagne (très simple, mais il existe des suppléments consacrés au campagne).
ADVANCED SONG OF BLADES AND HEROES est disponible en anglais en papier et en pdf. Une traduction non officielle, effectuée par nos soins, est cependant disponible, pour tous les joueurs possédant la version originale (écrivez-nous à guerreetplomb@gmail.com). A noter qu'Andrea Sfiligoi, le concepteur des règles, nous a informés qu'une version française officielle est en préparation et devrait sortir dans l'année. ADVANCED SONG OF BLADES AND HEROES est en vente sur le site de GANESHA GAMES.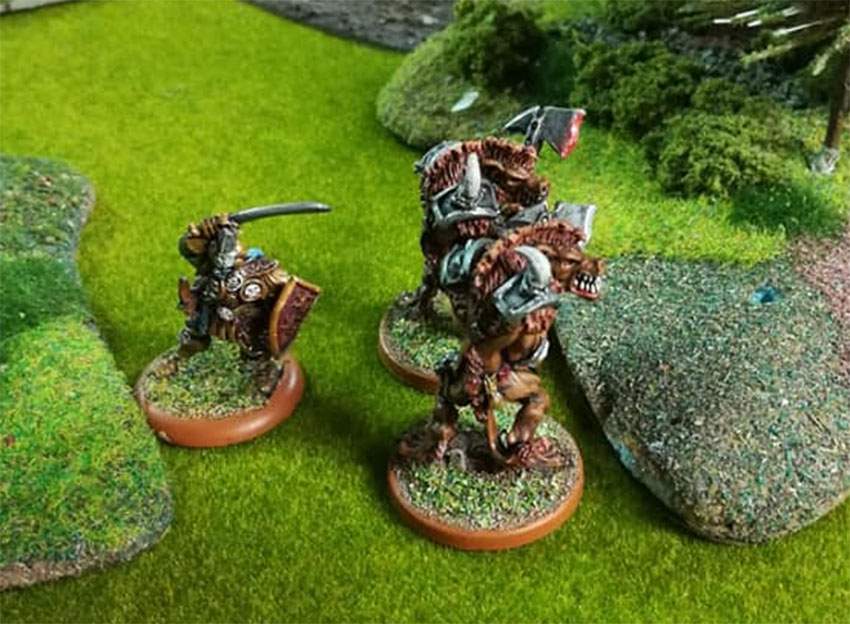 Les plus
Une règle simple, mais riche en subtilités
Adaptable à toutes les échelles de figurines
Un game-play fluide, une atmosphère fun
Une gemme riche en suppléments (si l'on y ajoute la première édition)
Les moins
La présentation, très succincte, de l'univers.
Beaucoup de races non présentées dans ce livret.