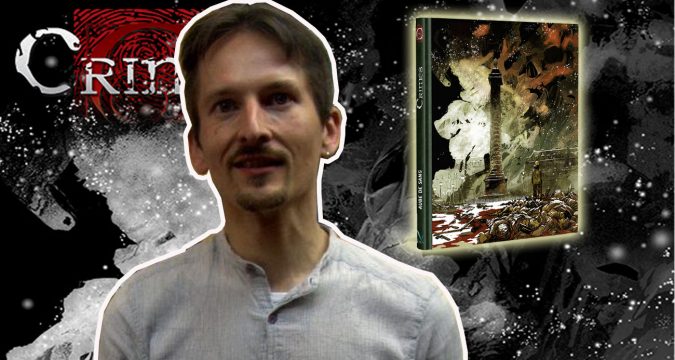 A l'occasion de la campagne de financement participatif de Crimes: Aube de sang , aux éditions Sycko, qui se déroule actuellement sur Game On Tabletop, nous avons pu rencontré l'un de ses auteurs, Yann Lefebvre. C'est avec plaisir que nous vous en présentons ici une synthèse.
Qu'est-ce que Crimes?
Crimes est un jeu de rôle historique ancré au cœur de la Belle Époque et inscrit dans la tradition des littératures classique, fantastique et horrifique du XIXe siècle.
Le fait criminel est le sujet central de ce jeu, dont la Déchéance est un principe fondateur : selon cette loi, tout responsable d'un acte criminel, qu'il s'agisse d'un homme, d'une société ou d'une civilisation, doit en payer le prix par une décadence progressive. Ainsi, les passions et les déviances des personnages les mènent inexorablement vers leur propre enfer : dégénérescence du corps, folie ou autre malédiction.
Mars 2021 marque la 15e année d'existence de la gamme, édité par Caravelle puis par Les Ecuries d'Augias et enfin en cours de réédition par Sycko. Ce projet fou a initialement demandé cinq ans de travail, « la lecture d'une centaine de livres sur l'époque ainsi que d'innombrables articles sur Cairn ou Gallica ». « Pour s'approprier un univers, il faut pouvoir le déstructurer. »
Professeur d'histoire-géographie, médiéviste, Yann n'a pas choisi cette époque au hasard« La belle Epoque, en plus des affaires criminelles, représente un de ces tournant de l'histoire, charnière entre deux mondes. La bascule du 20ème siècle marquant des changements rapides dans la presse, la politique, les mouvements sociaux ».
Et Aube de sang?
En 2007, Sur une idée de Franck Brison, Yann Lefebvre sort du cadre, la Belle Epoque 1900-1914, pour explorer un évènement antérieur mais fondateur des mouvements sociaux, politiques et sociétaux à venir : La commune de 1871 (mars à mai). Avec le parti pris supplémentaire de jouer des gavroches des rues de Paris. Ils mettront trois ans pour sortir la première version. Le système de règle de Crimes est adapté pour pouvoir incarner ces enfants. Il sera intéressant de voir apparaitre des jauges de confort, protection et d'hygiène. Des jeux d'enfants pourront débloquer certaines capacités du joueur.
Le genre de cette campagne de scénarios change selon les choix du meneur : horreur enfantine, aventure sociale et historique, poésie macabre, vie quotidienne sous la Commune, sans qu'un genre ne puisse supplanter les autres.
Ce supplément n'est pas linéaire mais se présente plutôt comme une « boîte à outils ». C'est une somme de situations qu'il convient d'ordonner, d'imbriquer pour constituer sa propre histoire.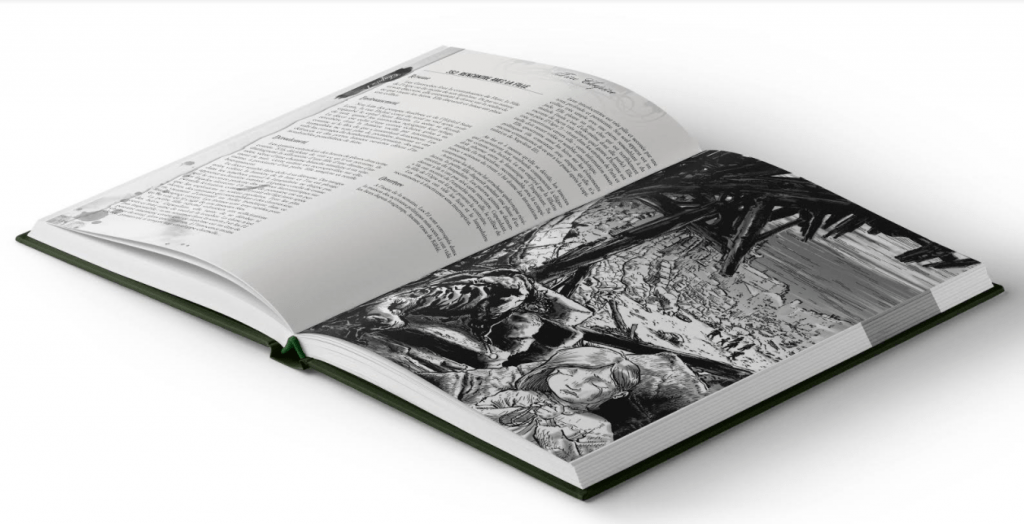 Incarner des enfants, un rôle facile?
L'auteur assure qu'un MJ débutant peut trouver la matière et les aides pour faire jouer Aube de sang. « ces mini adultes ne sont pas très éloignés des adultes qu'ils deviendront mais ils y perdront des capacités comme la préscience du danger et la protection par des êtres surnaturels » Jouer et faire jouer des enfants reste un défi. Little fears, Tales of the loop, Neverland, Libreté, Perdu sous la pluie et bientôt Lost London s'efforcent d'exploiter l'enfance comme ressort principal.
Quel avenir pour Crimes?
Ce travail collégial de création, s'il est couronné de succès, pourrait aboutir sur une extension de la gamme Crimes. « En suivant l'idée des époques charnières, nous réfléchissons à des villes en plein bouleversement. Le Londres d'après Jack l'Eventreur et le Chicago des années 1880 »
Le partenariat avec Let's Role montre l'intérêt porté par Sycko aux supports numériques commencé sur http://www.rolsite.fr/ . Ceux qui n'ont pas participé à l'alpha ou rejoint grâce  au kickstarter devront attendre septembre pour la beta gratuite.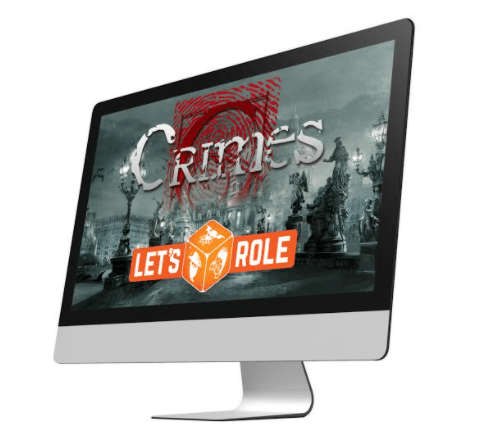 La gamme complète de Crimes va donc pouvoir enfin retrouve le chemin de nos étagères. Souhaitons-lui le plus grand succès.
Pour en savoir plus, rendez-vous sur la page Game On Tabletop de Crimes: Aube de Sang.
CRIMES SUR GUERRE & PLOMB