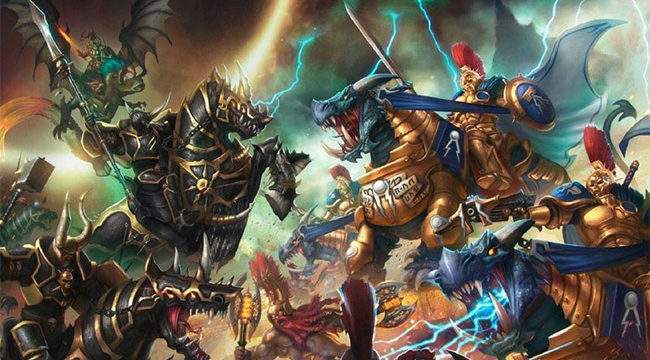 Deux nouvelles battletomes chaotiques pour le jeu de figurines fantastiques Age of Sigmar ce mois de février, qui viennent s'ajouter à l'incroyable éventail de ressources qui fait la fait de ce produit Games Workshop
Hédonites de Slaanesh
PRESENTATION
Les Hedonites of Slaanesh se complaisent dans la plus ignoble vilenie et les excès les plus stimulants pour les sens. Ce qu'on trouve justement à profusion sur les champs de bataille des Royaumes Mortels. Revigorés par la dépravation et dépendants aux plus intenses douleurs et plaisirs imaginables, les séides de Slaanesh sont une véritable plaie pour les Royaumes. Quand les osts du Prince Noir partent en guerre, des guerriers mortels se pavanent au côté de démons aussi vifs que cruels, et tous se ruent sur leurs ennemis envoûtés pour les tailler en pièces avec extase.
Le Battletome: Hedonites of Slaanesh est votre guide des guerriers mortels et démoniaques du Prince Noir. On y trouve un riche contexte historique sur ce dieu du Chaos et les trois affiliations de ses sbires: Envahisseurs, Prétendants, et Prospecteurs, tous motivés par leurs propres aspirations. Côté règles, cela se traduit par des armées configurables à votre goût, en choisissant un des trois osts, et en mélangeant démons et mortels à votre guise pour créer une armée rapide et meurtrière, conforme à ce que vous préférez jouer.
Ce livre de 128 pages sous couverture rigide contient:
– Un riche historique décrivant les serviteurs mortels ou démoniaques de Slaanesh, abondamment illustré
– Une galerie de figurines Citadel peintes à un niveau ahurissant
– 32 chartes d'unité, dont trois chartes de sorts persistants, et sept chartes de bataillon
– Des traits de bataille, des domaines de sorts et des règles pour les osts d'Envahisseurs, de Prétendants, et de Prospecteurs
– Deux plans de bataille qui mettent en scène les us guerriers des Hedonites
– Les règles pour jouer des Hedonites of Slaanesh en campagne Pour la Gloire
– Des profils de bataille rangée à l'usage des parties en jeu égal.
PRIX MOYEN CONSTATÉ 32,50€
Daughters of Khaine
PRESENTATION
On raconte beaucoup de choses sur les Daughters of Khaine, ces redoutables zélotes assoiffées de sang venues des contrées obscures d'Ulgu. Maîtresses des lames et des enchantements de l'ombre, elles recherchent le combat avec une ferveur démentielle, car en massacrant leurs ennemis pour se baigner dans leur sang elles acquièrent une terrible puissance. Guidées par la volonté de Morathi, leur reine mystérieuse à la ruse redoutable, les fidèles de Khaine s'adonnent aux conquêtes et aux sacrifices.
Suite à l'apothéose de Morathi, les Filles de Khaine sont parées à affronter les pires défis des Royaumes Mortels. Dotées d'unités véloces et agressives, d'une sorcellerie revigorante et d'Héroïnes meurtrières, elles composent une armée prompte à se jeter sur l'ennemi. Ce battletome aidera les généraux à faire bon usage de leurs aptitudes et tactiques. Accordez votre armée à votre style de jeu grâce aux six différents Temples de Khaine, nantis chacun de ses propres aptitudes, traits, et Artéfacts de Pouvoir. Ce guide incontournable contient en outre un historique étendu aux conséquences des événements de Broken Realms: Morathi, des guides de peinture, et des illustrations envoûtantes.

Ce livre de 104 pages sous couverture rigide contient:
– Les aptitudes d'allégeance des Daughters of Khaine, dont divers traits de bataille
– 6 Temples de Khaine, including des aptitudes, traits de commandement, et Artéfacts de Pouvoir.
– Le tableau des sorts du Domaine des Ombres
– Le tableau des Prières du Culte Khainite
– 1 plan de bataille Cérémonie de Sang
– Les règles pour créer une bande de Daughters of Khaine Pour la Gloire, dont des tableaux de récompenses de Champion et de Partisans
– 7 chartes de bataillon
– 23 chartes d'unité, dont 2 chartes de sorts persistants et 1 d'Invocation de Khaine
– Les profils de bataille rangée pour l'ensemble des unités et sorts persistants décrits dans ce battletome
CRÉDITS
– Auteur(s) N/A
– Illustrateur(s) N/A
– Éditeur(s) GAMES WORKSHOP
– Distributeur(s): GAMES WORKSHOP
PRIX MOYEN CONSTATÉ 32,50€