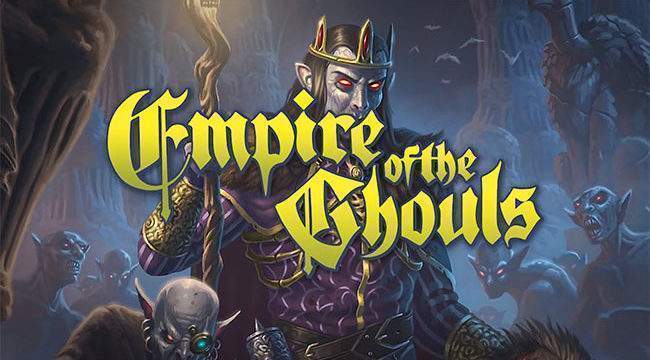 Une alliance de cultistes, de goules et de vampires. Un plan contre l'Humanité ourdi par les dieux du Mal. Nouvelles cartes, sombres royaumes, sociétés monstrueuses.
Kobold Press annonce le lancement d'une campagne kickstarter de Empire of the Ghouls, une campagne pour Dungeons & Dragons 5. La campagne a débuté hier et s'achèvera le 23 mai ou quand le montant des souscriptions atteindra quatre fois la hauteur de l'objectif (17 850€).
A propos de Empire of the Ghouls (par Kolbold Press)
Quelques torches, et une montagne de courage. C'est tout ce qu'il est nécessaire pour se rendre dans les terres d'obscurité éternelle.
Ce projet a pour but de fournir aux joueurs une campagne de dark fantasy complète pour la cinquième édition de Dungeons & Dragons. Tout commence en surface, avec l'invasion de morts-vivants, ce qui amène les Héros à s'aventurer dans l'Underworld, au cœur d'une obscurité affamée.
Le monde de la surface attire l'attention du le darakhul de l'Empire des Ghouls, désormais allié avec les vampires. L'empereur Nicoforus le Pale réagit avec prudence, mais beaucoup sont mécontents d'une telle hésitation. Et les goules ont mis en place un plan diabolique afin de prendre le contrôle de la Surface et de répandre leur sombre religion à travers le monde.
Ce projet consiste en une aventure complète pour des joueurs de niveaux 1 à 13. Cela débute avec la résolution d'une affaire de troubles causés par les goules à Zobeck pour continuer par une descente dans l'Underworld, à la recherche des responsables de cette invasion. Et les dangers ne manquent pas : vers pourpres, squelettes, saboteurs kobolds, otyughs, les derros et leur étrange folie… et, bien sûr, les goules, avec leurs barons et leurs armées, créatures implacables et étrangères à la notion de pitié.
Le kickstarter est composé de trois ouvrage: le livre d'aventure Empire of the Ghouls, un guide pour le monde de l'Underworld (
Underworld Player's Guide ) et un supplément de contexte (
Underworld Lairs ) qui fournit un lot de rencontres à intégrer dans cette campagne ou dans vos aventures.
La page kickstarter de Empire of the Ghouls