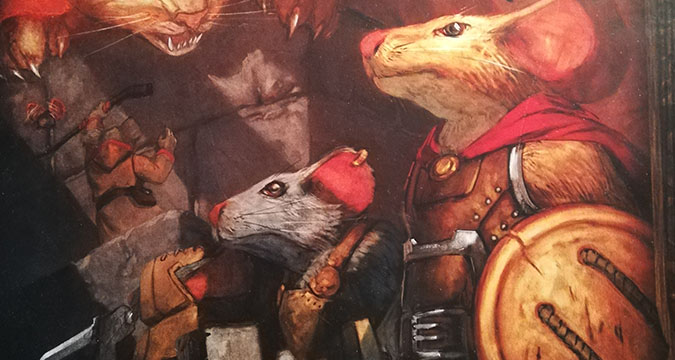 ---
La fiche de Mice and Mystics sur Guerre & Plomb
---
« Approche… approche mon petit… Laisse-moi te conter la fabuleuse histoire du Prince Collin et ses amis jadis humains, du pauvre Roi Andon et de l'envoûtante Reine du royaume de Sombreterre, Vanestra.»
En tant que joueur, j'étais à la recherche d'un jeu familial pouvant me permettre d'initier mes enfants aux joies du « dungeon-crawling ». Etant l'heureux papa de deux filles, la solution traditionnelle (qui je le rappelle au cas où, est très souvent à base de Barbares, guerriers barbus et sanguinaires ; Magiciens, vieux messieurs sentant la poussière et la naphtaline ; et évidemment Voleurs, certes efficaces dans leur domaine mais aux mœurs peu recommandables pour l'éducation d'enfants…) ne me paraissait pas particulièrement optimale pour atteindre mon but.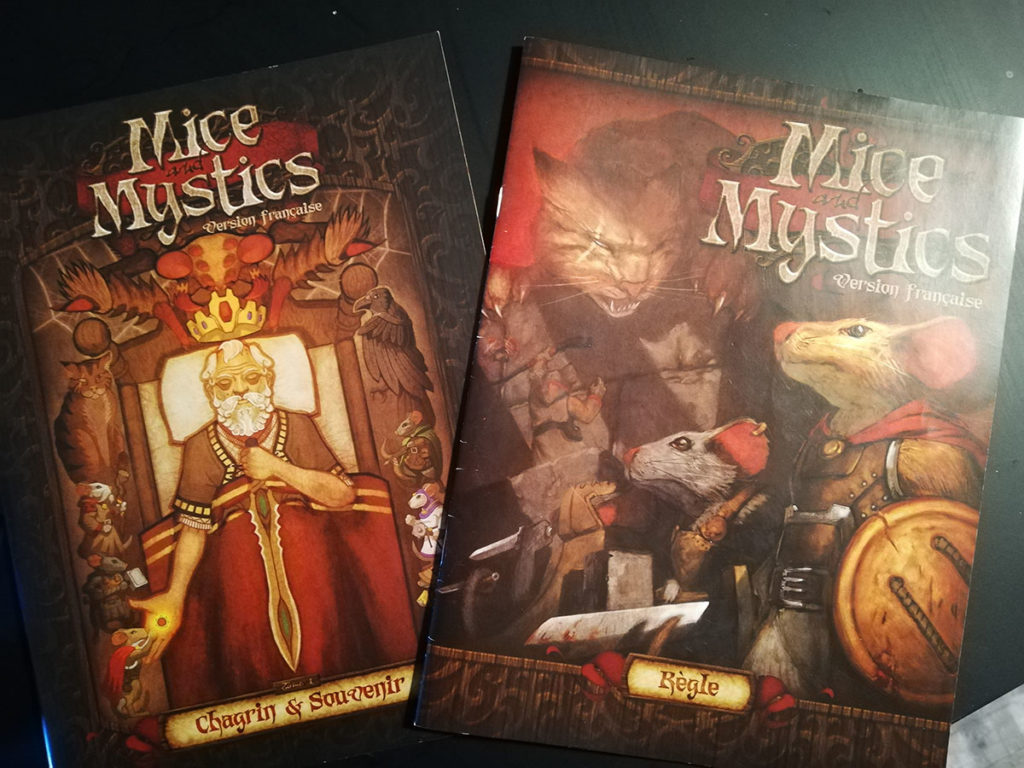 En fouinant un peu sur les sites de vente spécialisés, je finis par tomber sur une boite de jeu arborant un superbe dessin me rappelant l'univers des contes pour enfants et mélangeant le design de films comme Dark Crystal et Brisby et le secret de Nimh.
Intrigué, je me suis mis en tête d'en savoir plus… Alors Mice and Mystics c'est quoi ?
Jeu qui suscite un engouement qui ne désemplit pas dans de nombreux pays depuis déjà pas mal de mois (disposant de deux extensions à l'heure actuelle, dont nous parlerons peut-être dans un prochain test) M&M est un « dungeon-crawler » unique en son genre. Crée par Jerry HAWTHORNE, illustré par John ARIOSA. Edité par PLAIDHATGAMES, il se joue de un à quatre joueurs, à partir de quatorze ans, avec une durée moyenne d'une partie de soixante à quatre-vingt-dix minutes.Jeu qui se veut résolument Coopératif, il vous propose de suivre les aventures du Prince Collin et de ses amis, transformés en mignonnes petites souris pour s'échapper d'une prison et contrecarrer les plans de la vilaine Reine Vanestra.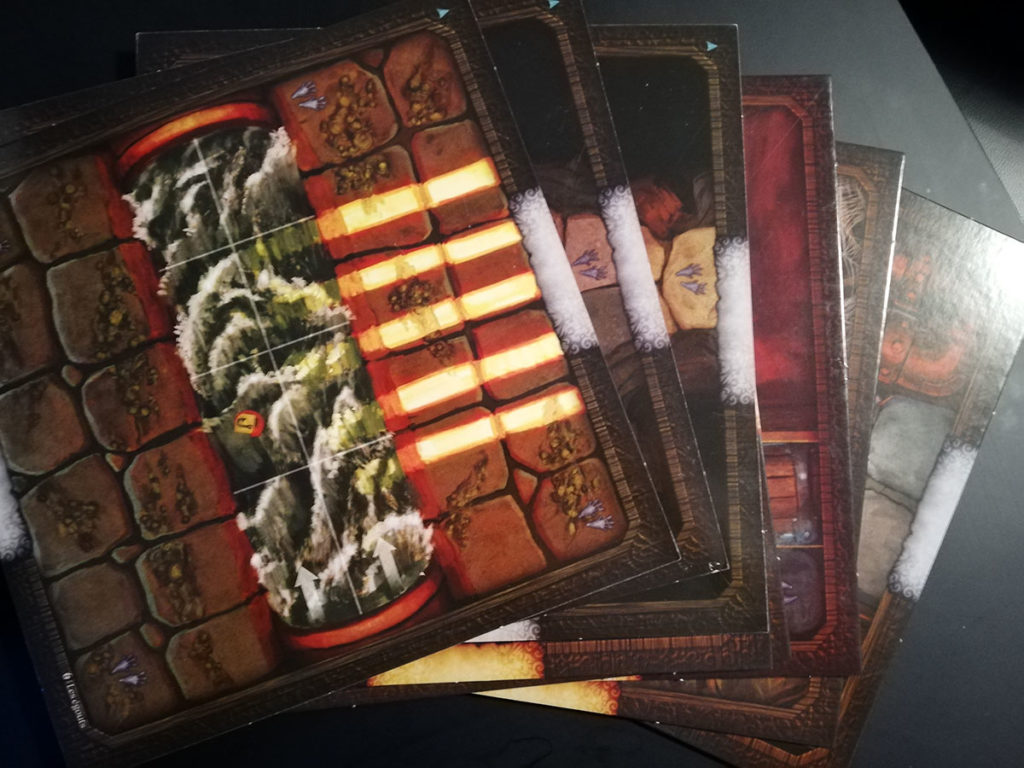 En suivant un recueil de scénarios agencés en une campagne se nommant « Chagrin et Souvenir » vous découvrirez une ambiance à nulle autre pareil, où vos adversaires seront des insectes, des araignées et des rats (et bien évidemment le terrible chat du château, Brodie), où vous évoluerez dans un univers plus grand que vous (vous obligeant à escalader des éléments du plateau grâce à un hameçon et du fil ou plonger dans les fissures du sol ou des trous de souris pour progresser) et où vos armures seront des glands en guise de casques, vos armes seront des aiguilles en guise d'épées voir parfois une fourchette en guise de catapulte et du raisin comme projectile.
L'ensemble est servi dans une boite remplie d'éléments de très bonne facture comprenant huit tuiles cartonnées réversibles de 25cm, un plateau du Conte, vingt-deux figurines (six héros et seize ennemis), cent-vingt cartes divisées en quatre catégories, de nombreux jetons cartonnés et évidemment des dès, au nombre de cinq utilisés pour les combats.
LES PRINCIPES DE JEU
La mise en place d'une partie suit les indications du « Livre de Conte », on assemble les tuiles dans un certain ordre, on place les héros et les ennemis sur les cases indiquées et on place les cartes d'initiatives sur la piste d'initiative réservée à cet effet de manière aléatoire. (L'ordre d'action des différents protagonistes étant donc imprévisible… du moins en début de la partie).
Lors d'un tour d'action, on peut se déplacer et effectuer une action (se précipiter en se déplaçant de nouveau, combattre un ennemi, récupérer après avoir été étourdis par exemple, fouiller une salle ou explorer une nouvelle salle). Les cartes Héros et Ennemis vous communiquent les informations sur les capacités des figurines, à savoir leurs valeurs de Déplacement, leurs scores en Savoir, en Défense et en Combat. Lors des combats il vous sera donc demandé de lancer le nombre de dés correspondant à votre score et de le comparer à celui de votre adversaire.
Il faut ensuite ajouter à ces règles « basiques » une notion de temps qui passe et une notion de renfort des ennemis. Ces deux règles apportent un peu de stress et un coté tactique où les joueurs se demanderont si il vaut mieux avancer ou fouiller pour de l'équipement par exemple quitte à prendre le risque de voir apparaître de nouveaux ennemis.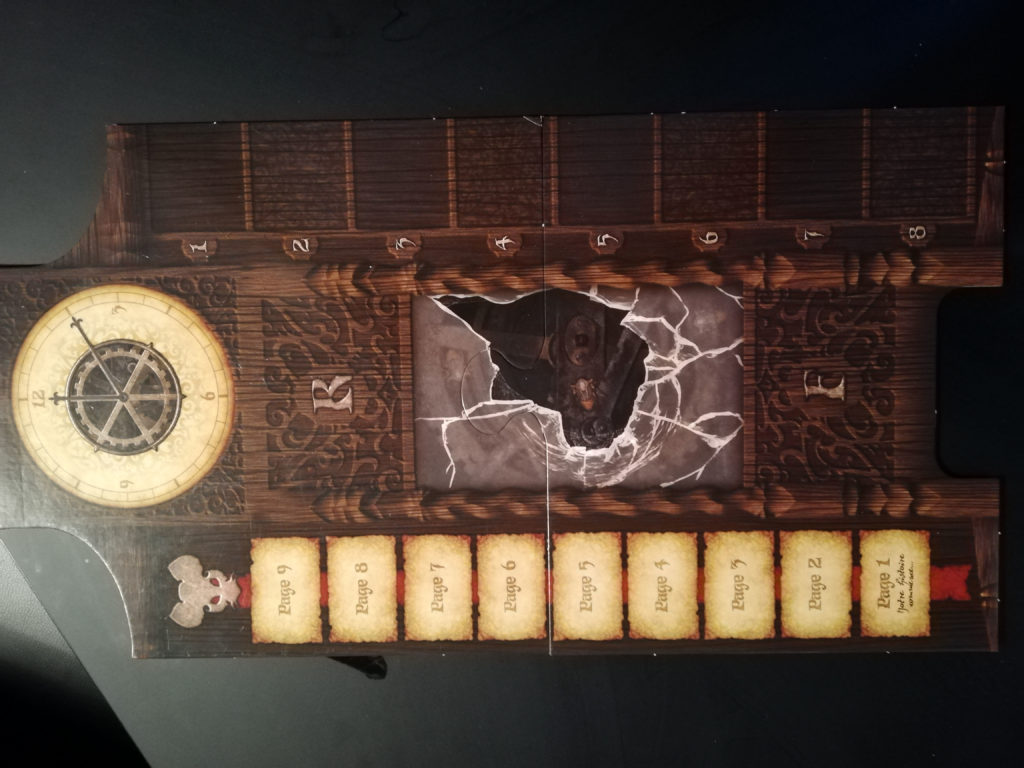 La première est représentée par un compteur « Page » à la manière d'un livre. Le nombre de pages d'un scénario est indiqué lors de la mise en place par le « Livre du Conte », si le curseur Page atteint la « Fin » la partie est perdue. L'évolution en page du curseur se fait en fonction de la défaite d'un héros. On ne meurt pas dans M&M, on est fait prisonnier. Le but d'une partie est donc de rassembler les conditions de victoires avant que le curseur n'atteigne la page fin.
La seconde est représentée par une « horloge à fromage », celle-ci se remplie lors des combats par l'obtention de symbole « fromage » sur les dés lancés par vos adversaires ou lorsqu'il n'y a plus d'adversaires sur le plateau. Lorsque l'horloge est remplie, une attaque surprise se déclenche ajoutant de nouveaux ennemis et dont les caractéristiques sont décrites sur la carte Rencontre active.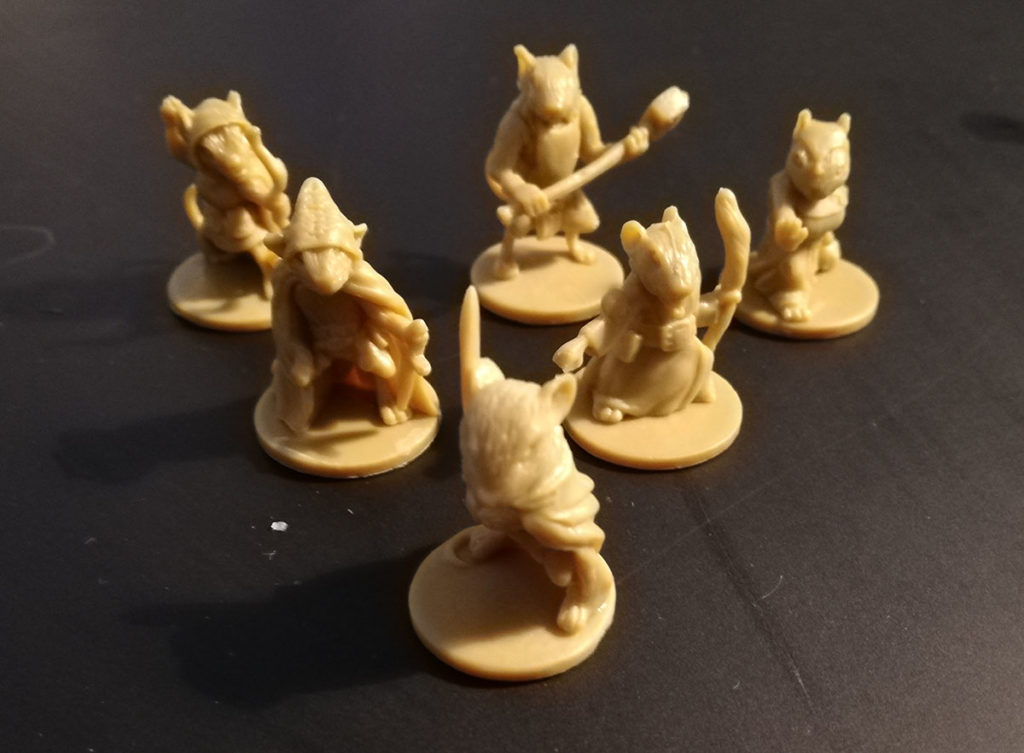 L'AVIS DE G&P
MICE AND MYSTICS propose donc aux joueurs un univers à part entière, où l'immersion est immédiate grâce à son « Livre du Conte », à ses différents éléments contextuels d'une « mignonnerie » et d'une astuce sans pareil. Tout ici crée une unité, un ensemble à la fois loufoque et réaliste, un véritable sentiment d'univers poétique et chevaleresque remplie de surprises et de rebondissements.
La restriction d'Age, qui je le rappelle est de quatorze ans, peux rapidement être contourné. Il suffit qu'un adulte prenne le rôle de « maitre de jeu » aidant les plus jeunes à gérer les règles et la narration. Les combats n'étant pas mortels et la violence visuelle étant bannie, le jeu peut rapidement se transformer en un outil ludique intergénérationnel et surtout une première expérience pour ce genre si prisé qu'est le « porte-monstre-trésor ».
La narration des différents chapitres augmentant encore un peu plus la densité de cette univers tout au long des onze chapitres que comporte l'histoire et permettant une réelle évolution des personnages (compétences et équipements). On a rapidement envie de connaitre la suite des aventures de nos charmants compagnons. Mais…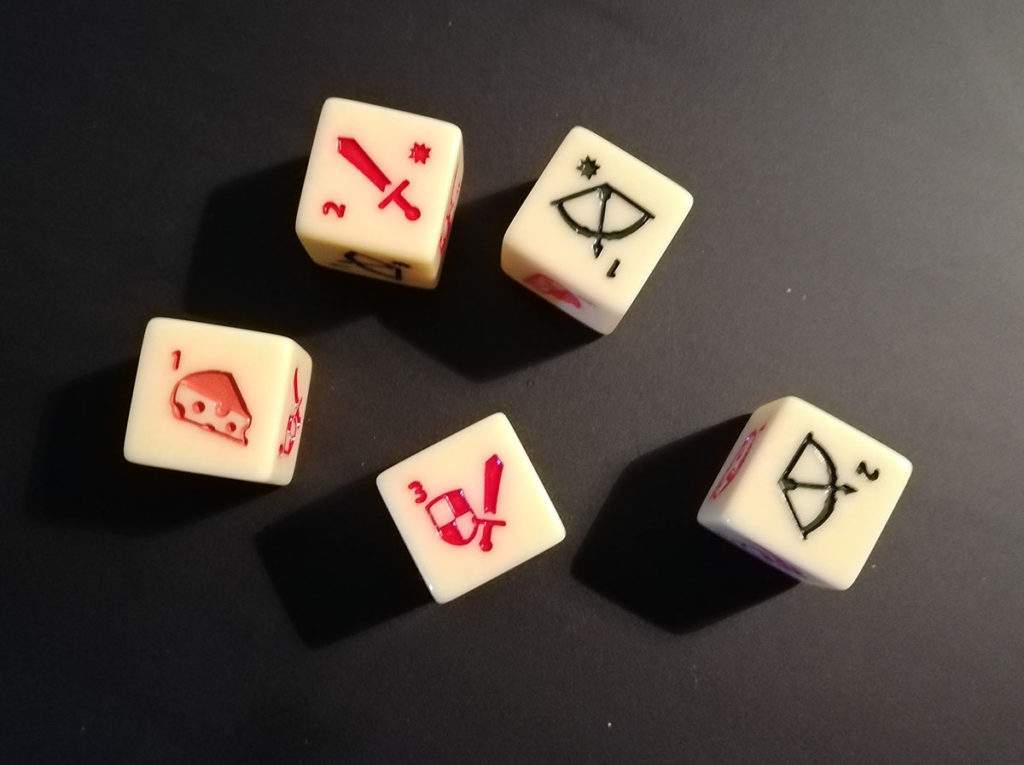 Car oui, malgré toutes ces éloges, tout n'est pas parfait. La durée de jeu par exemple, donnée pour soixante à quatre-vingt-dix minutes je le rappelle, frôlera plutôt les trois heures pour votre première partie et descendra rarement en dessous des deux heures.
Les figurines qui même si elles sont très jolies auraient pu être pré peinte pour accélérer la mise en place de la première partie et augmenter l'immersion des plus jeunes. Elles auraient aussi pu intégrer une différence en termes d'armement pour les ennemis vous attaquant à distance.
Le livret de règles est relativement dense, avec beaucoup d'éléments à intégrer. Alors certes cela amène une sensation de sujet maitrisé (malgré quelques points de règle un peu flous) mais peut s'avérer indigeste pour les plus jeunes et empêche donc une appellation grand public du support, il restera réservé aux magasins spécialisés. Il faudra du coup quelques parties pour fluidifier l'ensemble et créer des automatismes permettant d'apprécier l'aventure de nos amis à fourrures.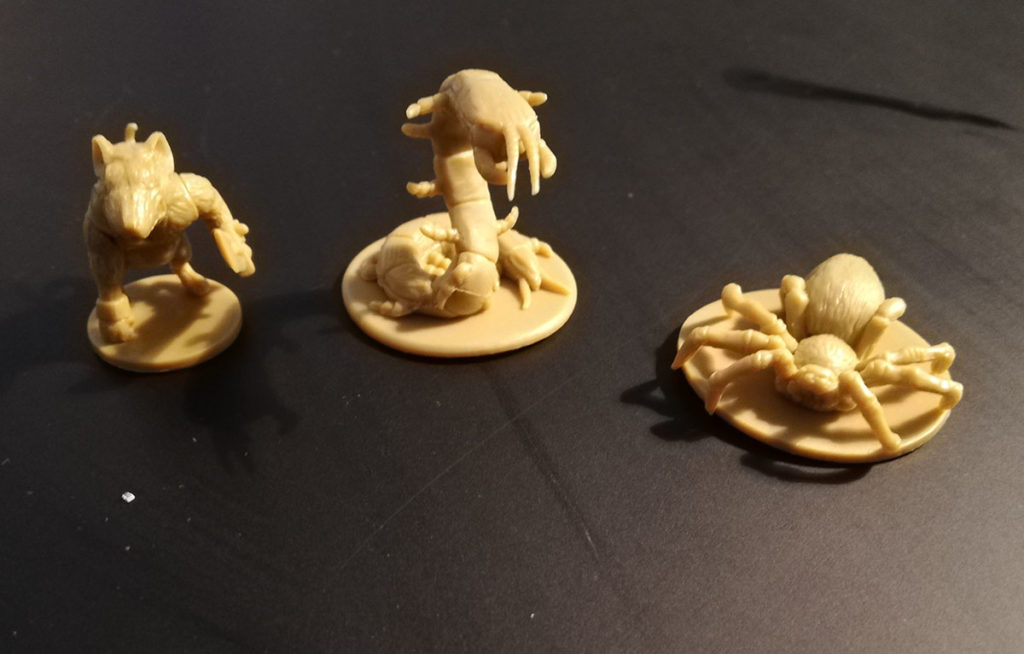 Concernant les puristes du genre, (les habitués de Descent, Runebound, Warhammer: Silver Tower, Dark Souls, etc…) le jeu leur paraitra peut-être un peu trop facile, la tactique des combats et les différents « bugs exploits » étant assez évident à comprendre et à mettre en place. Ici pas de pause en mode casse-tête à la recherche de la meilleure technique à adopter. Il existe tout de même une possibilité d'augmenter la difficulté des combats en utilisant les cartes Rencontres de couleurs rouge, mais soyons honnête ceci reste une solution anecdotique si on est un spécialiste du genre, et si en plus, vous êtes allergique à la coop ce jeu n'est vraiment pas fait pour vous.
Pour finir, MICE AND MYSTICS est un jeu prévu pour être jouer en Campagne, il vous faudra des joueurs un minimum impliqués, pas de spécialistes du « One shot », sous peine de passer à côté de la force principale du jeu : son univers et sa narration qui accentuent l'immersion des joueurs et apporte une dimension supplémentaire par rapport aux concurrents du genre dont l'univers est souvent fade et sans intérêts quand il n'est pas simplement un copier-coller d'un autre jeu changeant simplement les noms des lieux et des principaux protagonistes.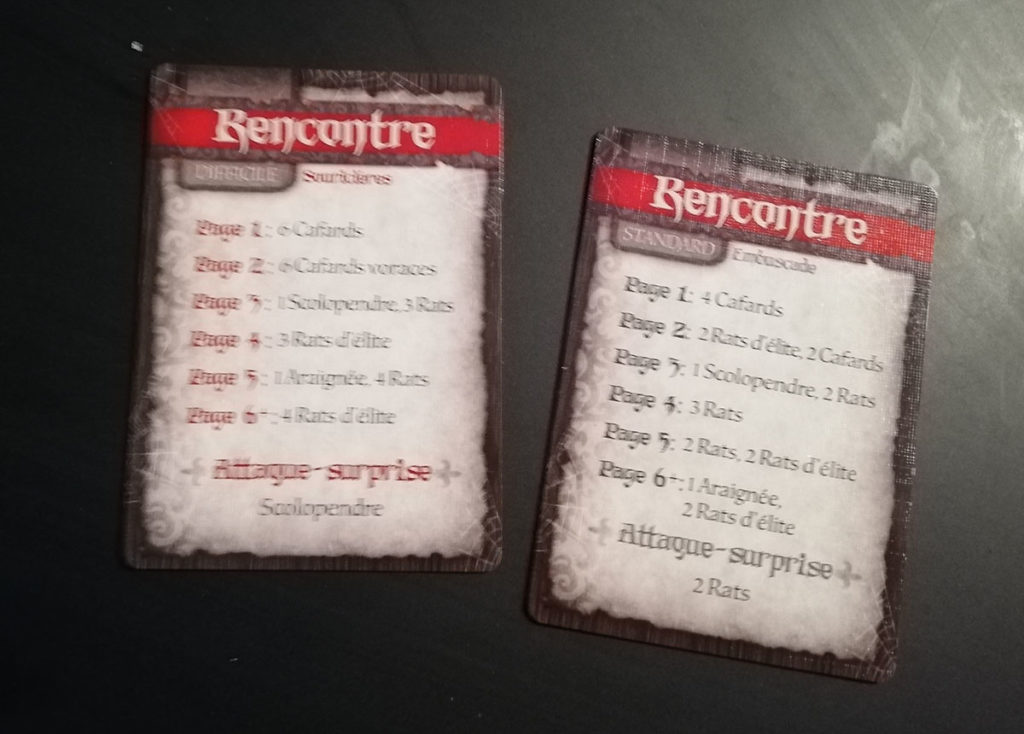 En conclusion, MICE AND MYSTICS vous embarque dans son univers avec une efficacité redoutable, on apprécie l'expérience passée entre amis ou en famille à combattre les « méchants » de la Reine Vanestra, discuter de qui doit faire quoi pour optimiser ses actions et éviter l'apparition de monstres supplémentaires. On se questionne sur la possibilité de réaliser un objectif secondaire. On savoure les scénarii détaillés et les dialogues riches de rebondissements déclenchés en pleine partie. On ne peut s'empêcher de se demander ce qu'il va se passer après, va-t-on réussir à vaincre la Reine et venger le Roi ?
Et pour les fans, ceux qui n'auraient pas eu leur dose d'aventure, sachez que deux extensions et un chapitre exclusif existent et vous permettront de connaitre la suite des péripéties de vos petits héros préférés.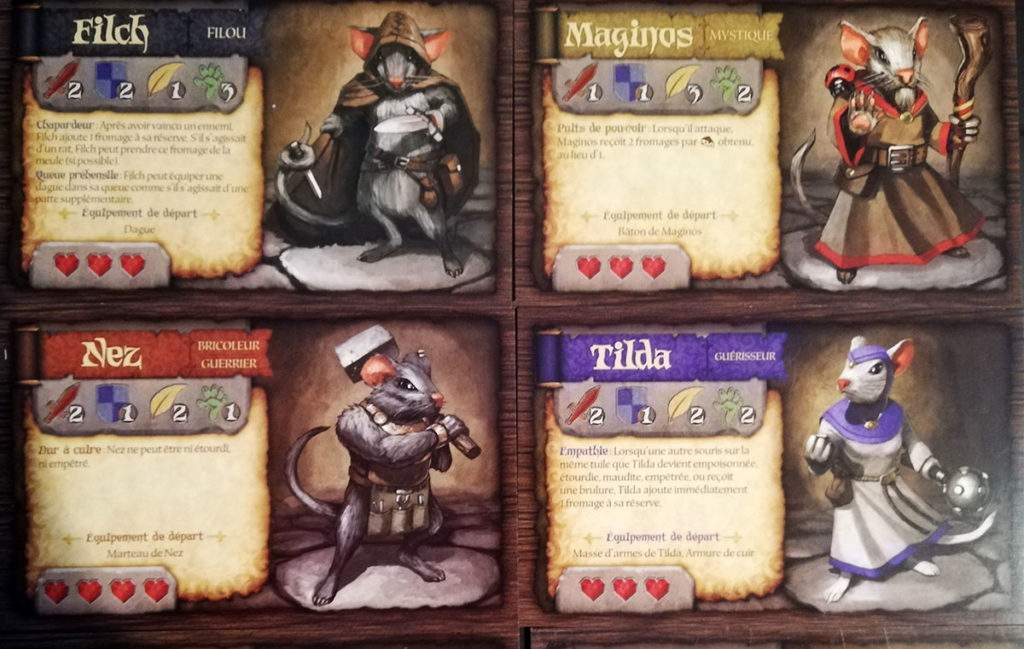 LES PLUS
– Un univers unique.
– Du matériel de très bonne qualité.
– Une immersion et une narration irréprochable.
LES MOINS
– Des règles un peu trop denses, difficiles à prendre en mains au début.
– Des combats un peu trop répétitifs.
MICE AND MYSTICS
Un jeu de Jerry HAWTHORNE
Illustrations de John ARIOSA
Un jeu PLAIDHAT GAMES (2013)