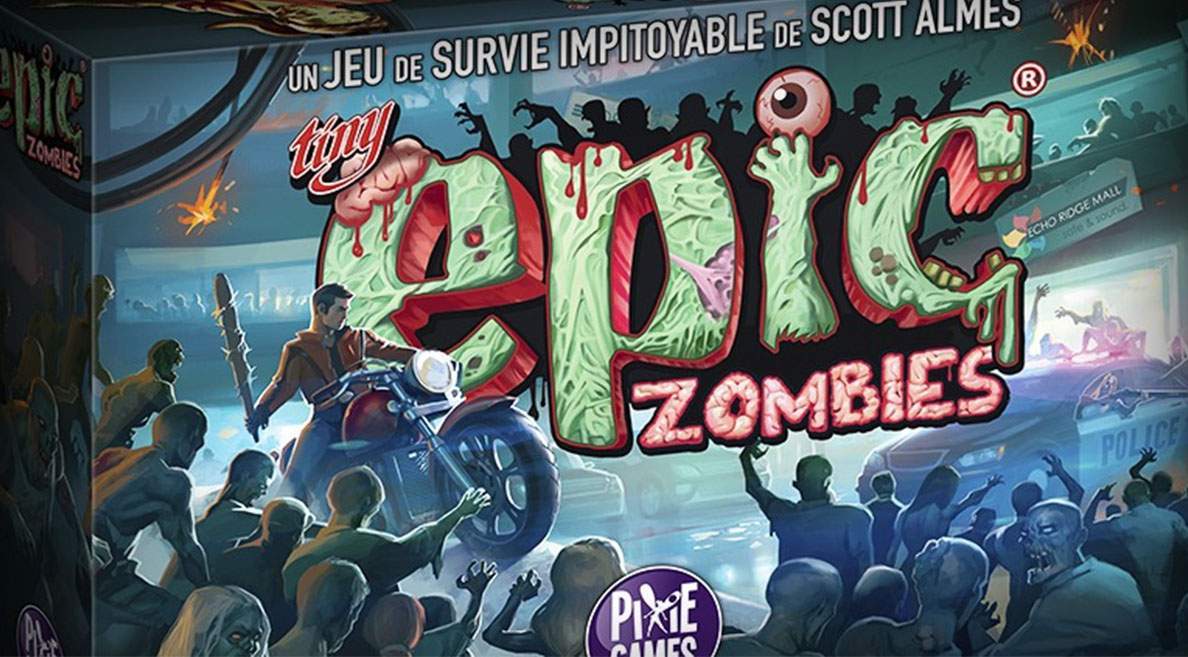 TINY EPIC ZOMBIES est un jeu de poche, ce qui ne veut pas dire que c'est un jeu d'apéro. Comprenez plutôt « tenant dans un boite de petite taille ». En fait, TINY EPIC est une gamme de jeux éditée par Pixie Games, qui a pour ambition de mettre à la disposition des joueurs un vrai jeu de plateau, qu'ils peuvent emporter partout et ne nécessitant qu'un coin de table pour être installer. Bon, j'admets, cela n'est pas tout à fait vrai, une fois déployé, le jeu est imposant. L'intérieur de la boîte est donc riche de pièces de jeu de belle facture mais de petite taille (pions, dé, cubes, jetons et figurines de zombies). C'est sûr, les gros doigts ne seront pas à la fête ! Seules les cartes personnages, le deck de cartes Fouille, les cartes Objectifs et les meeples des joueurs adoptent un format dit normal. A noter les chouettes illustrations sur les cartes, dans un pur esprit pulp, qui sont le fruit du travail de Miguel Coimbra. Enfin, le plateau de jeu est composé par l'assemblage de huit cartes représentant un centre commercial modulable (8 boutiques et un patio), assurant ainsi une bonne rejouabilité.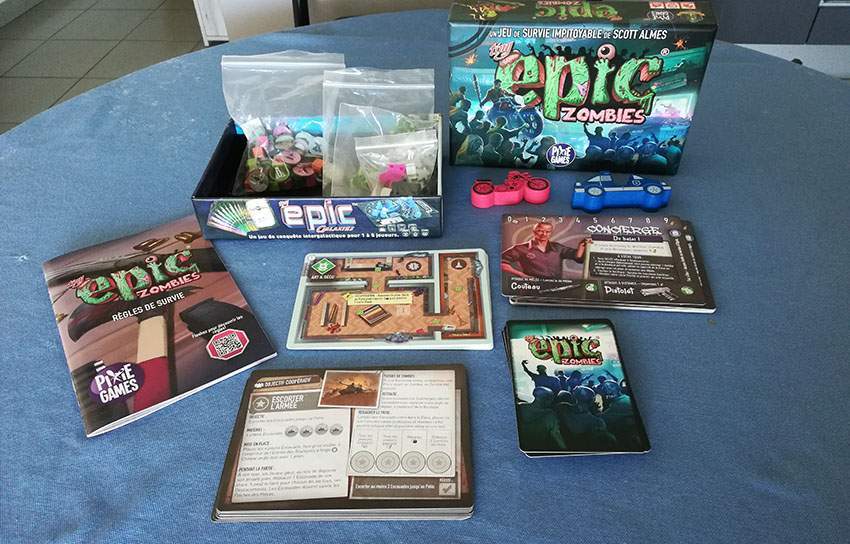 LES PRINCIPES DE JEU
Les joueurs doivent incarner des survivants réfugiés dans un centre commercial. Dans le jeu standard, 2 à 4 joueurs se voient confier la destinée des survivants pendant qu'un autre dirige les actions des zombies, mais le système de Scott Almes propose aussi d'autres de jeu que ce semi-coopératif : le full coopératif (tous les joueurs contre un I.A.), le compétitif (chacun pour soi !) et même un mode solo. Si quelques petites modifications doivent être appliquées, les principes de jeu et la mécanique reste les mêmes. A savoir les joueurs Survivants vont devoir remplir trois objectifs déterminés lors de la mise en place du jeu, le joueur Zombie (ou l'I.A.) devra les en empêcher en les dévorant ou en les ralentissant, le jeu prenant fin (sur une victoire du joueur Zombie) quand le deck de cartes Fouille est épuisé.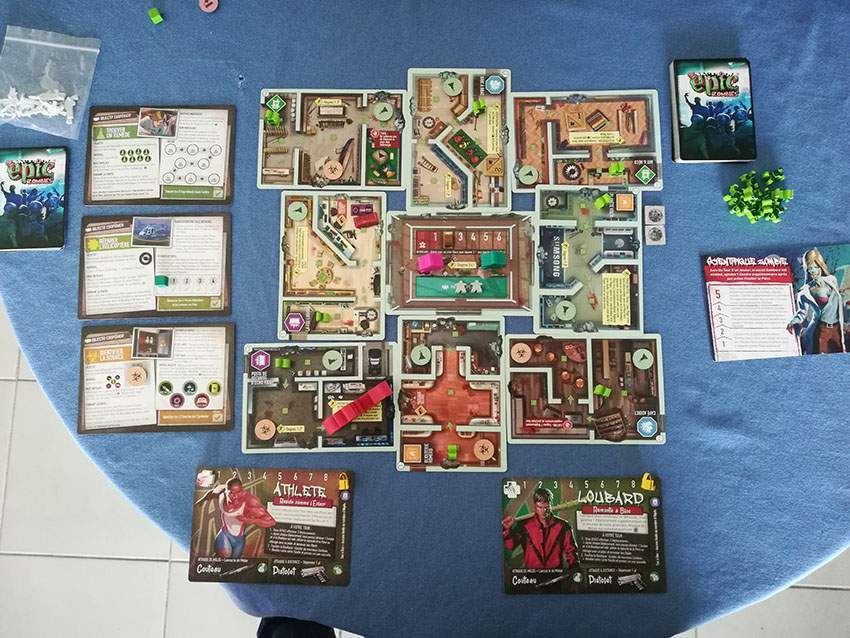 Les différents objectifs sont multiples, comme retrouver les ingrédients pour fabriquer un remède à l'épidémie, rassembler les pièces nécessaires à la réparation de l'hélicoptère, retrouver des survivants égarés… mais toutes nécessitent que les Survivants doivent explorer et fouiller les différentes boutiques du centre commercial (qui comprennent toutes trois zones). Lors de son tour, un joueur Survivant effectue obligatoirement trois déplacements (il déplace son meeple de trois zones). Quand il rencontre une figurine zombie, il doit l'affronter. La figurine zombie est toujours éliminée mais non sans conséquence : si le combat a lieu au corps-à-corps, il lance un dé spécial. Suivant le résultat, il peut subir des blessures. On déplace alors le marqueur Blessure de sa feuille de personnage d'un cran vers la droite. Si le combat a lieu à distance, il perd une munition, déplaçant le marqueur Munition d'un cran vers la gauche. Si, à un moment de la partie, le marqueur Munition contacte le marqueur Blessure, le personnage Survivant est dévoré !
Une fois la zone débarrassée de ses zombies, le personnage Survivant peut la fouiller, à la recherche d'armes et d'équipement. Il retourne alors la carte Fouille qui lui a auparavant été remise face cachée par le joueur Zombie. Si c'est une arme ou un équipement, il la pose à côté de la boutique, face visible, elle pourra être ramassée plus tard. Si c'est un évènement (généralement néfaste !), il est immédiatement résolu. Le joueur peut également, si la zone l'autorise, effectuer une action lui permettant de compléter l'un des objectifs. Enfin, la carte Fouille révélée affiche un symbole, qui désigne la boutique où doivent être mis en jeu des nouveaux zombies.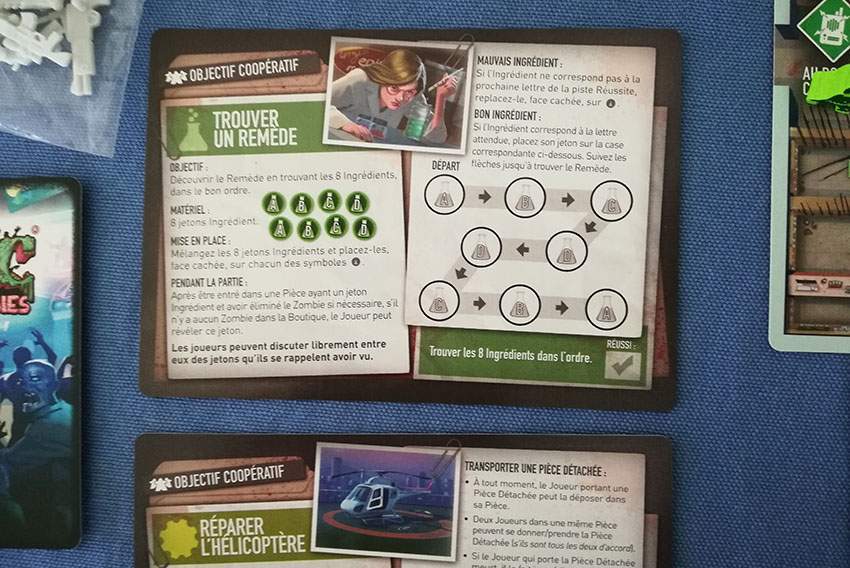 Le joueur zombie joue entre chaque joueur Survivant. Petit à petit, il va ajouter des zombies et, via une mécanique de submersion (il ne peut y avoir qu'un zombie par zone, quand un nouveau zombie entre dans la zone, le premier est déplacé dans la zone voisine), progresser vers le centre du plateau, le patio. La carte patio est le dernier refuge des Survivants, protégée une barricade qui diminue après chaque attaque de zombie. Les Survivants peuvent la réparer en ramassant des caisses de matériaux situés dans certaines salles mais si la barricade vient à disparaitre, des pions Survivants sont éliminés. Quand il n'y a plus de pions Survivants dans le patio, la partie s'achève sur une victoire des zombies.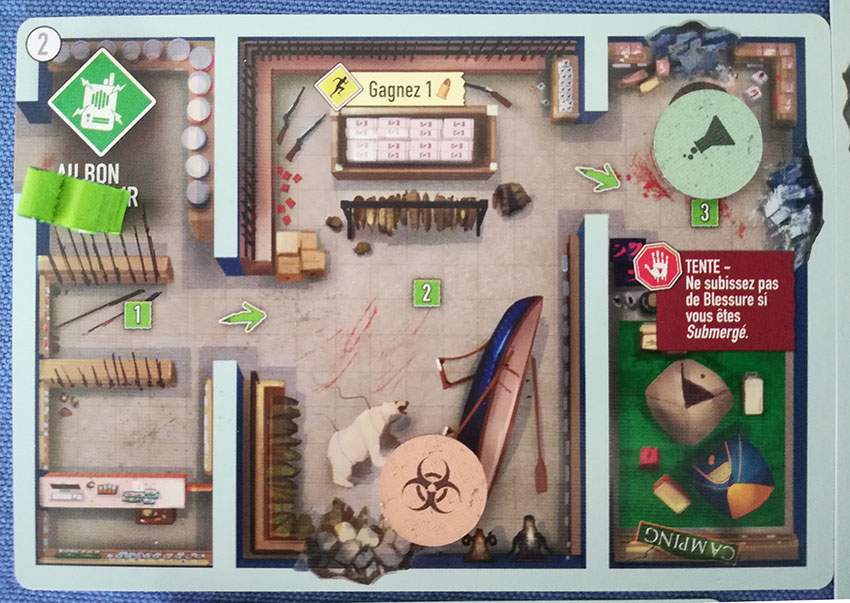 L'AVIS DE G&P
Jouer à TINY EPIC ZOMBIE exige de passer par une période d'adaptation. J'avoue que je n'étais pas très en zone de confort durant ma première partie (à 3 joueurs en mode standard). J'avais du mal à identifier rapidement les différentes indications présentes sur le plateau de jeu, cela s'ajoutant à un manque de confort lors de la manipulation de ces minuscules pièces. Une impression d'inconfort amplifié par la lecture de règles aussi touffues que confuses. Mais une fois l'environnement maîtrisé, ce jeu dévoile vraiment ses atouts et nous fait comprendre qu'insister en valait la peine.
Que vous soyez Joueur zombie, qui incarne ici un rôle d'overlord, mettant des bâtons dans les roues des joueurs Survivants, ou ces derniers qui eux, auront fort à faire, pour remplir leurs objectifs, le défi proposé par TINY EPIC ZOMBIE est intéressant. Niveau difficulté, le curseur est assez élevé, notamment en solo. J'ai lamentablement échoué trois fois, mais je persiste. Pour ce qui est de l'immersion, les fans de B-movies, l'auront compris, l'on est dans une projection ludique de l'univers de George A. Romero (et plus particulièrement Dawn of the Dead avec son centre commercial), je suis un peu moins convaincu. Peut-être en raison, une nouvelle fois, du matériel, qui affiche une cosmétique à mi-chemin entre un look fun et enfantin (notamment les pions véhicule, moto et voiture de police) et une atmosphère horror-movie. Du coup, c'est l'effet du cul entre deux chaises…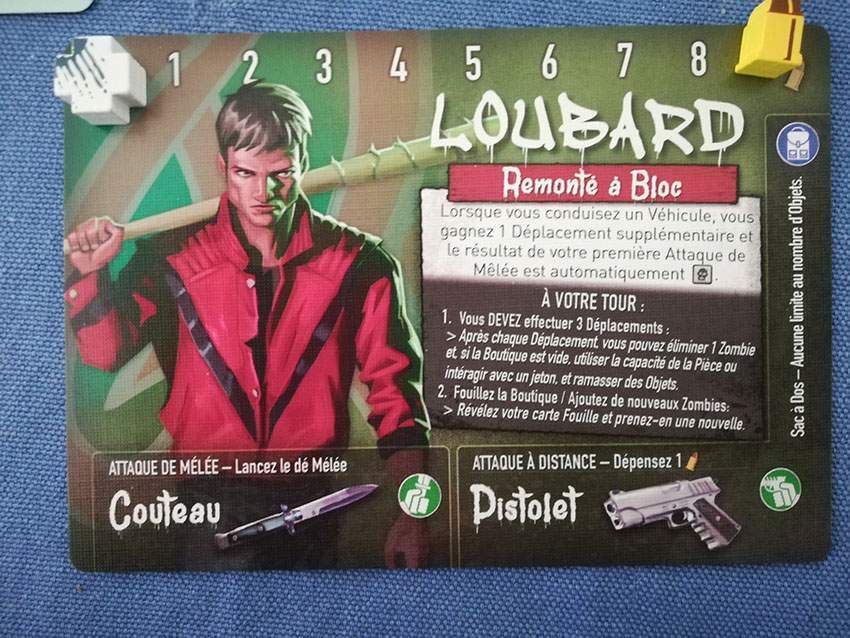 Les plus
Petit dans la poche, grand sur la table
Beaucoup de matériel, petit mais de qualité
Une bonne rejouabilité
Plusieurs modes de jeu
Un excellent challenge, en raison du niveau de difficulté.
Les moins
Nécessite une partie ou deux d'adaptation
Le livret de règles
L'aspect référentiel mis à mal par une cosmétique fun.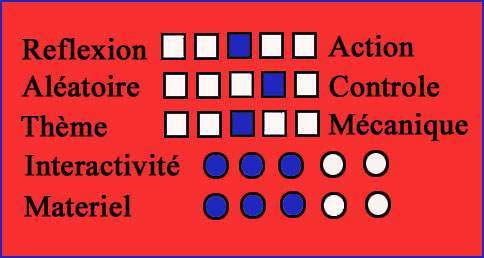 TINY EPIC ZOMBIES
Un jeu de Scott ALMES
Illustrations de Miguel COIMBRA
Edité par PIXIE GAMES