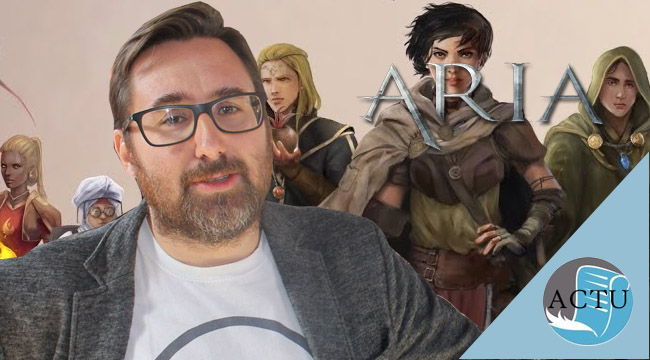 A l'occasion de la sortie en boutique d'Aria chez Elder Craft, nous avons souhaité interroger son créateur, Fibre Tigre, sur ce jeu de rôle qui a pour une de ses originalités d'avoir vu le jour autour d'une table d'actual play. Fibre Tigre s'est gentiment plié à ce jeu de question-réponse, en faisant également preuve d'une belle clarté sur la nature de ses activités professionnelles.
Bonjour Fibre Tigre. Pour ceux qui ne te connaîtraient pas, peux-tu te présenter à eux ? Ton cursus, et comment tu es arrivé au jeu de rôle, en tant que pratiquant et animateur du milieu ?
Je suis Fibre Tigre. Je suis spécialiste de la fiction interactive, qui est une sorte de jeu vidéo textuel. J'ai été game designer et narrative designer pro, avec des jeux commerciaux (Out There, Sigma Theory…) et désormais mon activité principale est la rédaction de scénarios de JDR pour les jouer en actual play. En terme de sources de revenus, il y a les actual plays principaux comme Game of Rôles qui se décline en deux émissions, mais j'ai aussi des actual plays sponsorisés, comme par exemple dimanche avec League of Legends, où je ne fais pas un simple JDR à ma guise : j'ai des contraintes diverses d'univers à respecter, de gameplay à adapter, et d'autres contraintes intéressantes, par exemple sur le caractère libre de droit des règles.
J'ai toujours apprécié le JDR comme loisir et je défends sa position en tant que « loisir ultime ». De part ma spécialité pro et mes faiblesses, je suis un MJ orienté sur les histoires, et j'ai acheté/lu beaucoup (un nombre ridicule, je n'ose pas le dire) des campagnes du commerce. Je suis ingénieur grande école, mais je suis à temps plein dans la narration depuis 2010 et je vis de ma plume, pas tous les jours bien cela dit. Ma 1ere boite de JDR était le kit d'initiation L'Œil noir que j'ai eu à 7 ans. J'ai eu la chance ensuite de rencontrer très tôt dans ma vie des rolistes qui étaient vraiment freeform tant sur le contenu que les règles, ce qui m'a ouvert des horizons narratifs.
D'abord avec une société de podcast, puis avec Twitch, et maintenant les deux, nous cherchons à faire des émissions au contenu novateur. Le JDR est un format qui s'est bien adapté à ces supports, même si Game of Rôles est fondamentalement très différent de la référence américaine, Critical Role. Je dirais que Game of Roles se transforme en quelque chose qui est de moins en moins un actual play.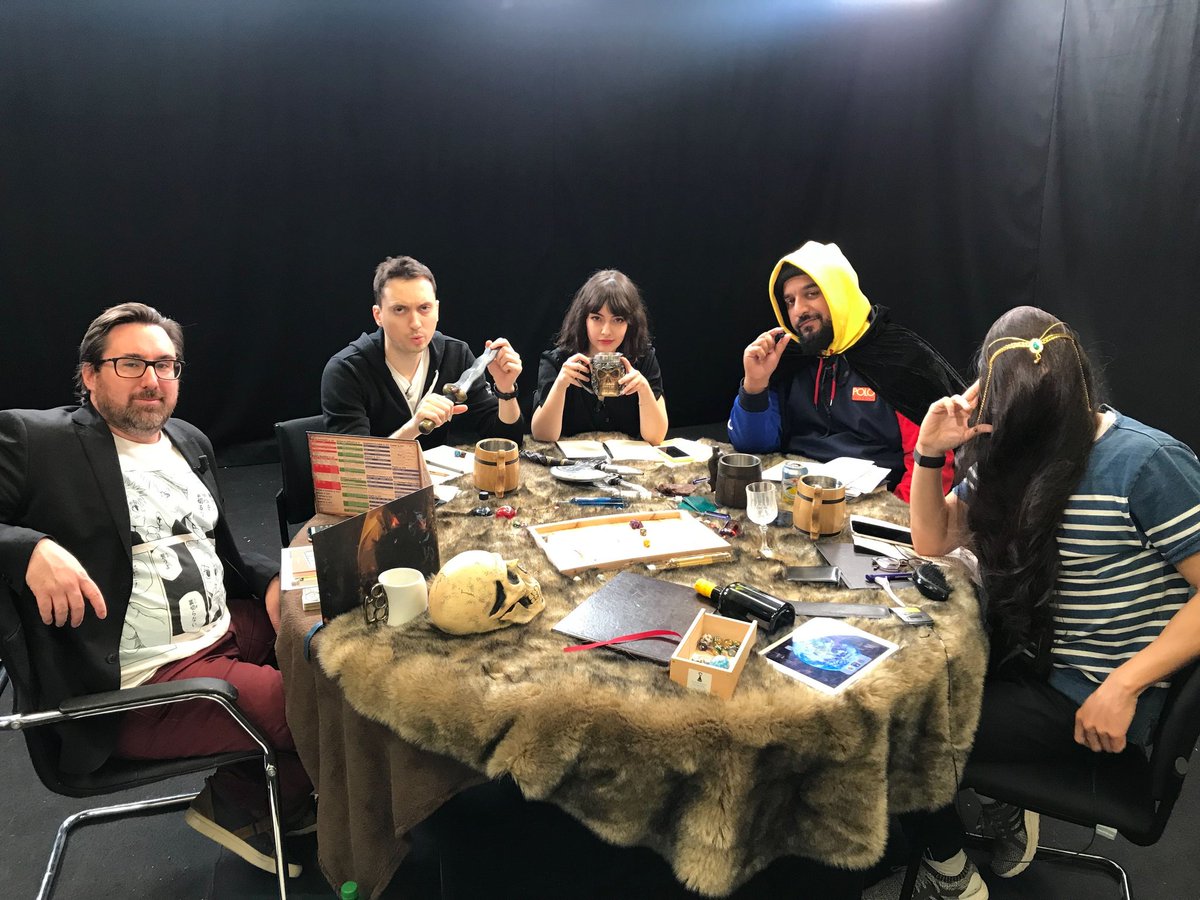 La table de l'émission d'actual-play Game of Roles
Quels sont tes références en matière de littérature fantasy, de cinéma et quels sont tes jeux de rôle fétiches, les œuvres qui t'ont inspirées pour la création d'Aria ?
Aria était le support d'un actual play destiné à des non rolistes mais des joueurs de jeux vidéo, car c'était sur la JVTV, émanation de jeuxvideo.com. L'idée a été de faire un univers le plus simple et le plus basique possible, à la manière d'un jeu vidéo : pays médiéval, pays des mille et une nuits, pays des pirates… L'idée était que les spectateurs y retrouvent leurs petits très rapidement. Cela ne veut pas dire qu'au niveau micro, les aventures sont basiques… J'utilise le système D100 du BRP (ndj: Basic Role Playing) avec une modification particulière : les critiques positifs ou négatifs se font en dessous de 10 et au dessus de 90. Avec un tel système, un jet de dés sur 5 est un critique (dans DnD ou CO, c'est 1 sur 10). Cela rend le jeu tout à fait spectaculaire, donc un spectacle, et le jet de dé participe pleinement à la narration. Par ailleurs, le système 100 qui est pénible narrativement ou ludiquement est compatible avec une génération JV, car c'est un système qu'on retrouve dans Xcom, Fallout… J'ai eu de nombreuses inspirations de mythes et légendes réels, mais aussi Le Nom du Vent, qui m'a appris l'importance d'une mythologie sur la vie de tous les jours.
Peux-tu nous présenter le monde d'Aria ? Quels types de personnages sont invités à incarner les joueurs ?
Aria est un monde médiéval avec peu de gens, la plus grosse armée fait 3000 hommes, et essentiellement des humains. Il y a des elfes noirs, des minotaures…etc…mais la consigne est qu'une telle rencontre est très rare et toujours merveilleuse. Les contours sont mal définis et il y a plein de zones d'ombre à combler. Les dieux fonctionnent sur certains territoires. La magie est très très puissante (on peut faire tomber une météorite sur une ville par exemple) mais on a un nombre d'utilisations très limité dans toute une vie… Les magiciens n'utilisent leurs pouvoirs que très rarement, et souvent le regrettent.
Les joueurs jouent des personnages très spécialisés et faibles, qui ne peuvent pas monter en niveau (ils peuvent juste perdre un bras par exemple). La mort est définitive. On peut jouer un peu de tout, de l'assassin à un animal intelligent, en passant par voleur, forgeron…etc… Dans le livre il y a 36 prétirés qui disposent chacun d'une quête associée, dont 4 dédiées aux forces du mal. Le JDR est clairement orienté pour de l'initiation.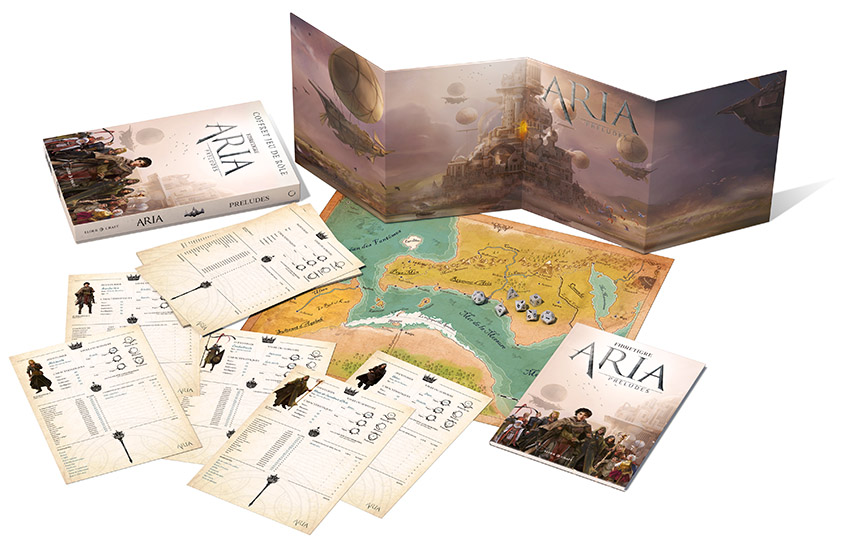 Un regard sur la gamme Aria
Avant d'être édité via une campagne de financement, Aria était le support d'un actual-play sur Games of Role. Peux-tu nous en raconter la genèse, car généralement, on assiste plutôt au processus inverse, non ? Quel était l'objectif premier ?
L'objectif de Game of Rôles est sincèrement de s'amuser et d'apporter du bonheur à l'audience. Je ne me suis vraiment pas enrichi toutes ces années avec cette activité, même en prenant en compte le FP. Lors des phases de pilote, en 2016 je crois, je voulais faire la campagne impériale de Warhammer. À l'époque je travaillais avec un éditeur de Bragelonne qui m'a dit que si ça marchait, ce serait mieux d'avoir mon IP. J'ai donc créé mon univers et mes règles (après tout, c'était mon métier). Comme j'essaie d'être loyal, quand l'actual play a marché, je suis revenu voir cet éditeur qui depuis était parti en indépendant pour lui proposer d'éditer Aria. Aria c'est un FP de 350 k €, sur lesquels j'ai touché 18k € de droits. J'ai réparti cette somme avec mes joueurs que j'ai considéré comme co-créateurs de l'œuvre, mais pas à fond non plus : 2 parts pour moi, 1 part pour eux. J'ai touché au final 8000 € environ.
Aujourd'hui je suis très bien payé pour faire des actual plays sponso et GoR en particulier a trouvé un partenaire commercial dès septembre ce qui fait que tout le monde va être très bien payé, alors est-ce qu'à cette date on sera toujours là "juste pour s'amuser" ? On essaie de rester dans l'esprit qu'on est là pour s'amuser… J'espère que cet esprit durera toujours. Je suis content que GoR réussisse, mais je sais faire d'autres choses donc si ça doit s'arrêter, je serais triste mais pas dans le désespoir.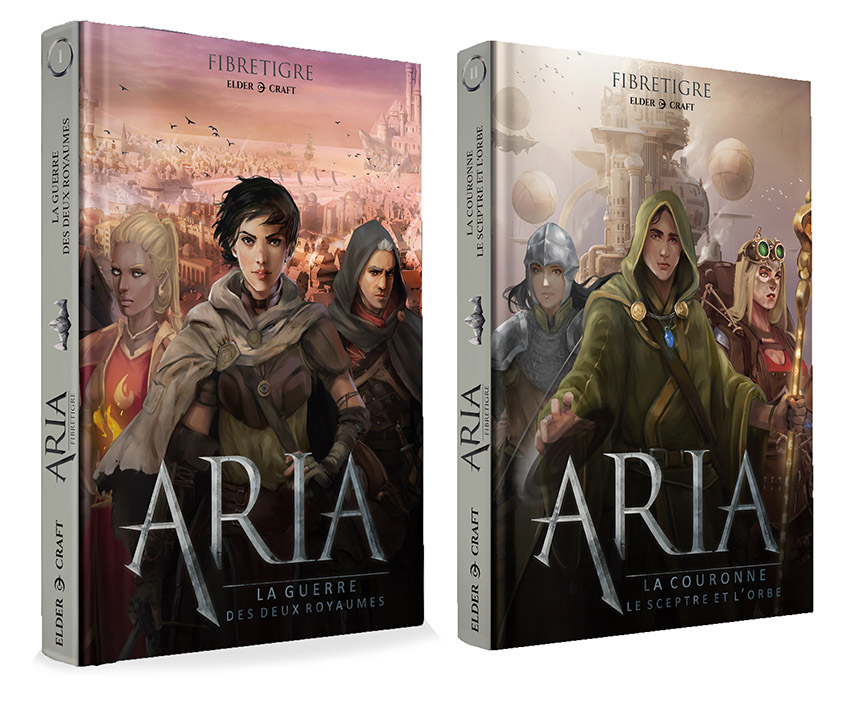 Les deux tomes du jeu de rôle Aria
Envisageais-tu un tel succès ? D'ailleurs, comment expliques-tu la réussite des actual-plays de manière générale ?
C'est compliqué de parler de réussite. Réaliser une émission d'actual play pro coûte beaucoup en argent et en logistique, et en temps, pour un résultat difficile à quantifier. Aujourd'hui sur Twitch on peut faire plus d'audience avec moins de moyens, si on fait autre chose. Il y a une forme de foi dans une création de fiction qu'on appelle "JDR" mais qui tend vers autre chose. GoR n'a pas fondamentalement changé, mais on a ajouté une musicienne, des previously… On essaye d'être moins dans le JDR ludique et stratégique et plus dans la série TV improvisée. Il y a une forme de fiction qui n'a pas de nom et vers laquelle on avance, en écoutant l'audience, ce qu'elle apprécie, ce qu'elle n'aime pas.
Aujourd'hui GoR réussit aussi sur twitch parce qu'on est associés à un très grand streamer de la scène française. Sans lui, nos audiences seraient 10 fois moindre. Le mot « JDR » par ailleurs fait peur aux partenaires commerciaux, qui ne sont pas de la jeune génération. Je dirais enfin que « Dungeons & Dragons » est cool, tendance. Dire que vous y jouez ou que vous connaissez fait de vous un type cool par rapport à quelqu'un qui joue à Fortnite. Mais est-ce que des gens jouent vraiment, massivement, plus au JDR qu'avant ? Un peu plus parce que c'est perçu comme cool. Mais à l'heure où j'écris cette réponse, je n'en suis pas certain. Il y a une perception de réussite, mais il y a une réalité de galère.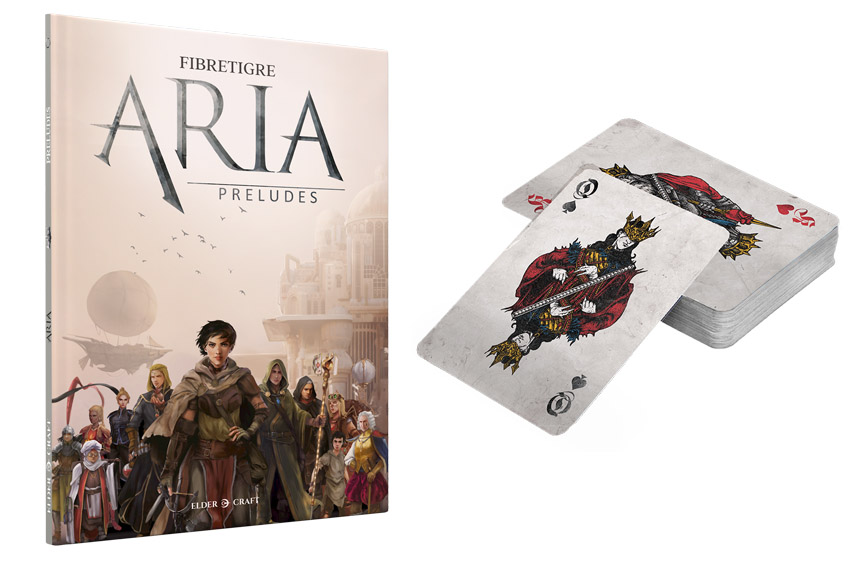 Le livre d'initiation et le deck de cartes Magie
Quelle motorisation utilises-tu ? Donnes-tu une grande importance au système ou tu préfères privilégier la narration ?
Un dérivé du BRP destiné à affaiblir encore plus les personnages. Je veux qu'ils trouvent par leur astuce une façon de s'en sortir. Quand on tire l'épée, pour moi, c'est une défaite narrative. Et oui, en tant que game designer qui a reçu des prix de game design (dans le jeu vidéo), pour moi, les règles, ce n'est pas très important. Game of Rôles est un jeu français de fond et de forme : sur le fond, ca tchache, ca négocie, ca se plaint, ca trompe sa femme, ça dépense tout son argent en bibelots et en repas, et sur la forme, on s'arrange parfois avec les règles quand c'est plus simple.
Venons-en maintenant au jeu de rôle papier. Comment s'est passée la collaboration avec l'éditeur ?
Aujourd'hui, EC gère totalement la licence, qu'on élargit horizontalement : jeu vidéo, BD, roman… Ces projets sont gérés par l'éditeur et propulsés "marketinguement" par l'émission. On est en harmonie, il fait bien son job, on prend bien soin l'un de l'autre, et on oublie pas que l'important, c'est de s'amuser.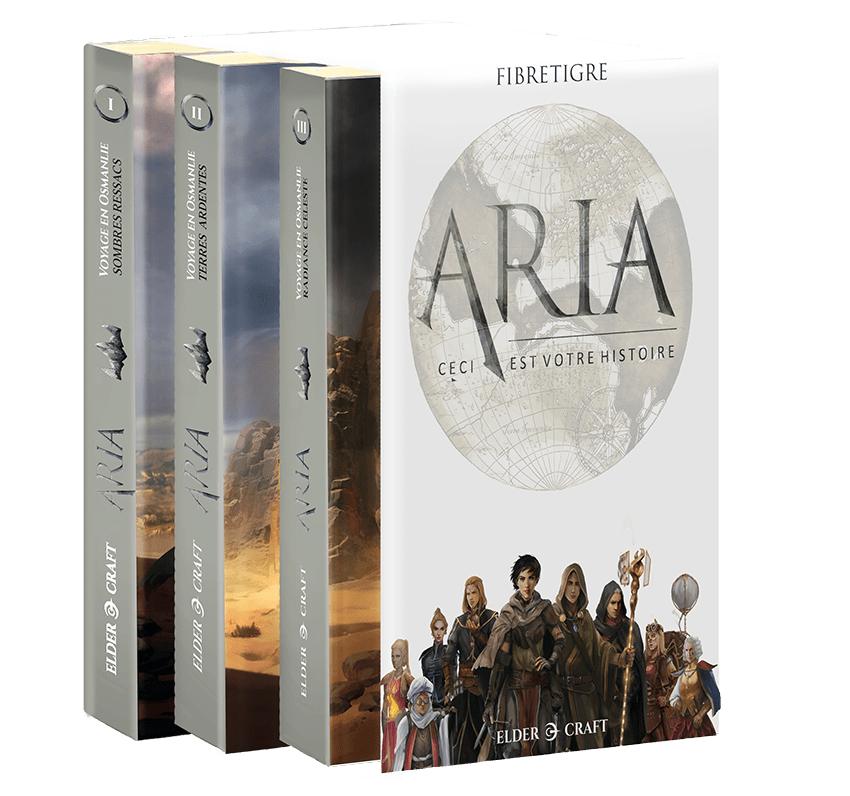 La série de romans Ceci est votre histoire
En quoi diffèrent les offres de la campagne de financement et les produits proposés en boutiques ? Vas-tu continuer à développer la gamme ? Quels sont tes projets ?
Et bien il y avait des produits exclusifs à la campagne, comme le fait d'avoir son nom en PNJ, ou des PJ customs avec campagne associée. Mais sinon c'est plus ou moins pareil. La gamme va être développée, tout simplement parce que quand j'ai bouclé un scénario d'actual play, je l'envoie à l'éditeur qui prépare sa publication. L'AP permet de tester le scénario, et d'en faire la promo, et aussi, très important, d'expliquer aux MJ débutants comment ça fonctionne.
À titre personnel je rêve de faire du JDR par correspondance, et aussi un JDR politique sur les présidentielles.
ARIA SUR GUERRE & PLOMB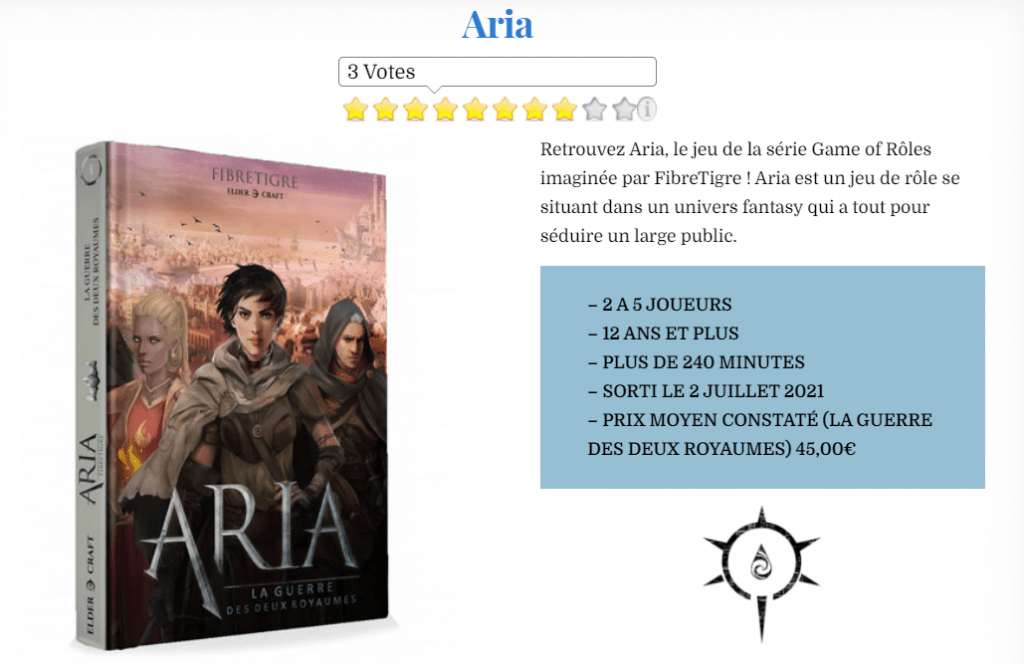 TEASER ARIA