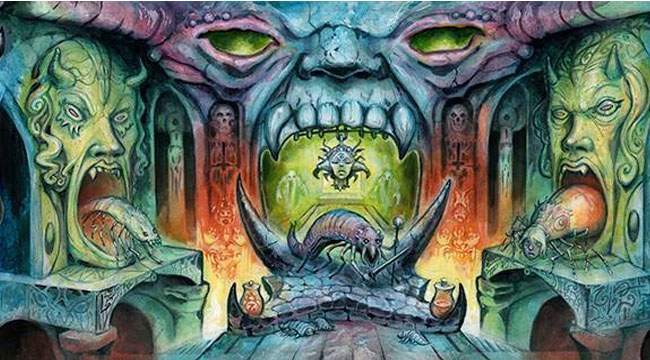 A l'occasion de la campagne de financement de la version française de Dungeon Crawl Classics qui se déroule actuellement sur Game On Tabletop, Akileos (qui s'écarte ici de son domaine, la bande dessinée, pour le jeu de rôle) a mis en ligne une interview de son créateur, Peter Mullen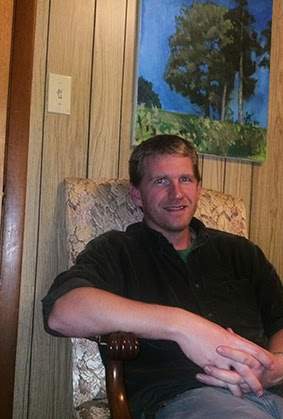 – Bonjour Peter! Merci d'avoir accepté de répondre à quelques questions. Peux-tu d'abord te présenter et nous parler de ton parcours ainsi que de ta découverte du jeu de rôle?
Salut ! Je m'appelle Peter Mullen.
C'était en 1981 ou 1982, quand ma mère, qui s'occupait des courses de Noël à la maison, a acheté le Basic Set Moldvay (avec la couverture de Erol Otus) et la boîte Star Frontiers pour mes deux frères aînés. J'ai trouvé ça horrible que le père Noël ne leur ait pas apporté des figurines Star Wars. Ils avaient dû faire quelque chose de vraiment atroce ! Je me souviens d'avoir feuilleté les livres quand ils les ont reposés et d'avoir aimé les illustrations, surtout celles de Star Frontiers, car c'était ce qui s'approchait le plus du phénomène Star Wars à l'époque. Après une période où je n'ai pas été invité, étant donné que j'étais le plus jeune, ils ont fini par me laisser jouer un guerrier parce que leur elfe et leur magicien n'arrêtaient pas de mourir. Nous avons fini par récupérer le Dungeon Master's Guide, le Player's Handbook et le Monster Manual et ça résume quasiment tout ce à quoi on a joué depuis. Mes copains de lycée et de fac ont joué à la 2e édition de D&D, mais mes frères et moi sommes restés sur B/X et AD&D.
Tu continues à jouer?
Oui ! En tant que bon père, je fais en sorte que mes enfants soient initiés au plaisir, à l'émerveillement et à l'épanouissement intellectuel apporté par les jeux de rôle sur table ! DCC JDR est génial pour nous, car c'est rapide, facile à faire jouer et ne nécessite pas des semaines de préparation ! L'un de mes objectifs cette année est de pousser mes enfants à écrire leurs propres aventures pour que je puisse être joueur pour une fois !
Peux-tu nous parler un peu de technique? Ton style est facilement reconnaissable. Quelles sont tes influences?
Ma « technique » s'est développée à partir de ce qui se passait dans nos parties de D&D et Star Frontiers avec mes frères et mes cousins. Au collège, je copiais les styles de mes dessinateurs de BD préférés du moment. Ce qui peut se voir dans les dessins que je faisais au lycée. Ils étaient peuplés de brutes musclées vêtues de pagnes en fourrure qui faisait tournoyer des épées, ce genre de choses. Plus tard, ça s'est plus orienté vers un style qui tentait de donner corps à l'émerveillement et l'étrangeté d'artistes comme Erol Otus et Dave Trampier. Une des choses qui m'a attiré dans les vieilles illustrations pour D&D, c'est qu'elles ne représentaient jamais de super-héros. Ils ressemblaient au geek moyen comme le maigrichon qui se parle tout seul à la bibliothèque ou le type qui zone dans la boutique de comics et qui discute pour savoir qui est le meilleur dessinateur de Batman. Je voulais que les gens qui regardent mes dessins en retirent l'impression que cette pauvre bande d'idiots qui allait se faire massacrer avait une chance ! Pas une grande chance, évidemment, mais s'ils étaient assez accrocheurs ou assez malins, ils pouvaient sortir victorieux de l'affrontement. Je crois qu'on a tendance à soutenir les plus faibles dans n'importe quel combat et qu'on a toujours tendance à penser que « l'espoir fait vivre ! ». C'est ce que j'ai toujours vu dans le travail d'Erol Otus.
Les comics m'ont toujours beaucoup intéressé et je me souviens que j'étais passionné par les X-Men et Spider-Man au collège. Quand je suis arrivé au lycée, je me suis plus orienté vers des trucs comme Appleseed, le Batman de Frank Miller, tout ce faisait Mike Mignola, Cerebus, Groo the Wanderer et toutes ces BD que personne ne voulait et vendait pour quelques centimes. Tout ce qui était bizarre et inhabituel. The Far Side et Calvin & Hobbes étaient aussi tout en haut de la liste et plus facilement accessible. Je les découpais chaque semaine sur les pages de journal que ma tante Jenny gardait pour moi. À la fac, je me suis intéressé à Nausicaa et la Vallée du vent que je considère toujours comme une des meilleures BD jamais écrites. Akira, Ghost in the Shell, Sin City et tout ce que faisaient Geoff Darrow ou Frank Miller. C'est que j'ai aussi commencé à rechercher des recueils de Flash Gordon par Alex Raymond et Prince Valiant par Hal Foster. J'adore Order of the Stick de Rich Burlew et j'ai récemment découvert Frank de Jim Woodring, qui est vraiment génial !
Je crois savoir que tu es professeur d'arts plastiques. Est-ce un choix que tu as fait pour gagner ta vie ou une vraie vocation?
J'enseigne actuellement en tant que professeur adjoint de dessin et de peinture dans une branche du campus de l'université de Penn State. J'enseigne l'art depuis maintenant presque 13 ans au niveau lycée ou université. Issu moi-même des arts appliqués, j'adore enseigner l'art. Mais ça peut être compliqué quand on essaye d'apprendre à quelqu'un à regarder les choses différemment. Pour autant, je me rends compte que j'apprends autant que les autres quand je vois les étudiants chercher des solutions que je n'aurais pas imaginées. Pour moi, enseigner et apprendre sont deux activités réciproques dans l'utilisation et l'exécution des idées.
Tu as également produit des couvertures peintes? Préfères-tu le noir et blanc ou aimes-tu les deux techniques?
J'aime faire des couvertures ! C'est amusant et très stimulant d'essayer de condenser un livre entier ou un scénario en une seule peinture tout en créant un aspect mystérieux et un désir chez l'acheteur potentiel qui veut savoir ce qui se passe. C'est un exercice d'équilibre entre donner trop d'information et pas assez !
Je ne peux pas dire que je préfère le noir et blanc ou la couleur, j'aime vraiment les deux. Avec la plume et l'encre, j'aime expérimenter avec les textures et le trait. Et la couleur, c'est l'interaction entre l'ombre et la lumière, la façon dont la couleur peut immerger le spectateur dans l'aspect unique de l'environnement.
Qu'y a-t-il en ce moment sur ta table à dessin?
Quelques illustrations intérieures pour Empire of the East pour DCC chez Goodman Games !
Merci de nous avoir accordé du temps, Peter.
Merci beaucoup !