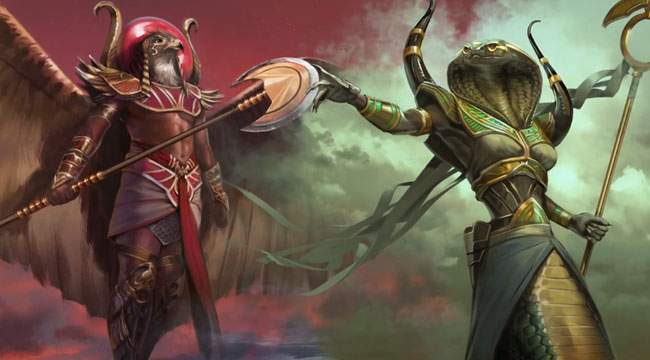 Kemet, l'un des jolis succès de Matagot (sorti en 2012) refait son retour en kickstarter. Avec cette nouvelle édition baptisée Blood and Sand, fort des retours des joueurs et des créateurs, Kemet voit son gameplay simplifié et amélioré.
Dans Kemet : Blood and Sand, vous incarnez l'un des dieux d'Egypte, visant à marquer votre domination sur cette terre desséchée. Construisez des pyramides, associez des pouvoirs divins pour créer de puissantes combinaisons asymétriques et menez vos disciples dans de glorieuses batailles. Mais attention, seule une planification stratégique approfondie et des tactiques rapides vous mèneront vers la victoire !
En plus de cela, la grande nouvelle est l'introduction d'un add-on (optionnel) faisant entrer en scène le grand cthulhu et ses potes cosmiques. Une initiative qui peut surprendre aussi Matagot a pris soin de l'expliquer.
Dans le monde imaginaire de Kemet : Blood and Sand, les dieux classiques de l'Egypte ancienne ne sont pas les seuls à être vénérés. Des dieux plus sombres et effrayants font l'objet de cultes profanes : le grand Cthulhu est adoré sur les rives du Nil, tandis que le nom de Nyarlathotep, le pharaon noir, est murmuré dans le désert lointain.
Grâce à l'extension Kemet: Cthulhu, vous aurez accès aux tuiles Pouvoir les plus puissantes de l'univers de Kemet : Blood and Sand. Cependant, l'accès à ce savoir terrifiant a un prix très sombre : vous devrez corrompre vos unités et les envoyer dans la ville de R'lyeh. Ce faisant, vous perdrez peu à peu la raison et sombrerez inévitablement dans la folie. De plus, vous devrez sacrifier vos inestimables points de victoire. C'est le prix à payer pour obtenir les pouvoirs les plus puissants et les capacités les plus redoutables. Vous pourriez finalement être capable de contrôler les terribles Cthulhu et Nyarlathotep. Dans ce cas, ils seront de redoutables alliés dans votre conquête de la terre noire de Kemet : Blood and Sand.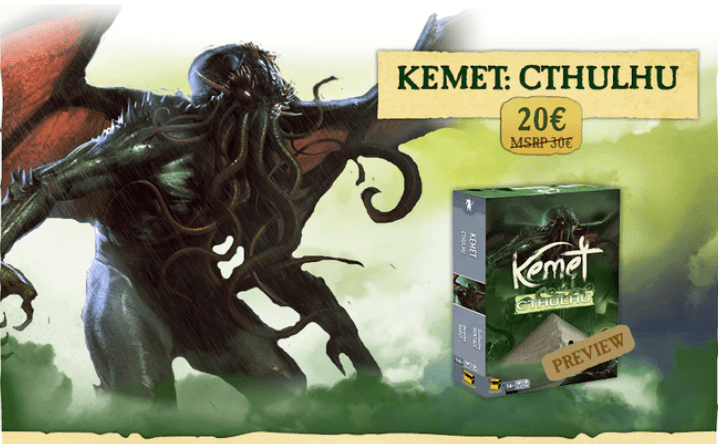 Les tuiles Pouvoir de l'extension Cthulhu peuvent remplacer l'une des couleurs de base du jeu, quel que soit le nombre de joueurs.
A notre qu'un pledge, le Champollion, est uniquement destiné au marché français. Il permet aux contributeurs de pouvoir recevoir leur jeu dans la boutique de leur choix, évitant ainsi des frais de port supplémentaires et de payer la moitié de leur contribution à réception.
Si vous voulez en savoir plus, la page kickstarter de Kemet: Blood and Sand