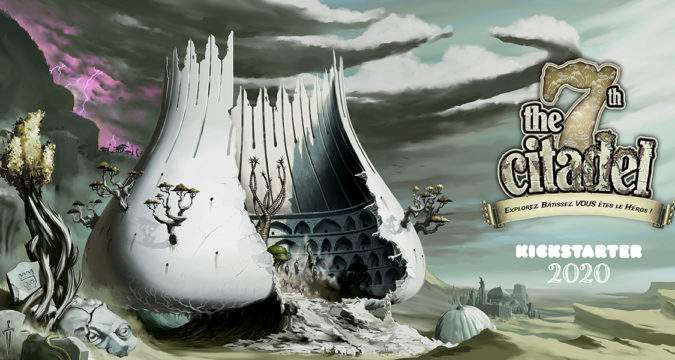 Guidé par Ludovic Roudy, l'un de ses concepteurs, nous avons pu essayer le prototype de The 7th Citadel, le nouveau jeu de Serious Poulp, au Festival International du Jeu de Cannes 2020. Une agréable expérience, pleine de nouveautés en comparaison avec son prédécesseur The 7th Continent.
Un monde médiéval et plus sombre
Dans The 7th Citadel, les joueurs incarnent des personnages plongés dans un univers de dark fantasy à une époque médiévale. Dans une ambiance post-apocalyptique, les protagonistes ne sont que des pions dans un monde chaotique et cruel et tentent de survivre et de reconstruire l'ombre d'une civilisation. Vous n'êtes plus des explorateurs perdus en proie à une malédiction, mais des survivants d'un monde dévasté où tout peut être un danger pour votre vie. Il faudra faire preuve de vigilance et prendre des décisions difficiles, parfois même immorales. Oubliez également le confort et les manières, vos personnages seront ravis de déguster un mille-pattes encore vivant ou de simplement survivre une nuit de plus.
Vous aurez l'opportunité de manipuler la magie, l'univers est en effet plongé dans de sombres arcanes et vous pourrez manipuler certains sortilèges afin d'augmenter vos chances de survie et de réussite.
Le monde paraît riche, travaillé et évolutif. Les créateurs ont aussi redoublé d'effort pour mettre en valeur l'ambiance et la narration : dans The 7th Citadel, vous aurez l'opportunité d'échanger des dialogues à choix multiples lors de rencontres avec d'autres humains, et vos décisions pourront bouleverser le cours de votre scénario.
Le livret assurera plusieurs chemins, de nombreux embranchements différents selon vos choix, vos réussites ou vos échecs. L'exploration promet d'être très diversifiée !
Un système plus clair et aussi efficace
En ce qui concerne le système de jeu, vous ne serez pas dépaysé si vous avez joué à The 7th Continent, mais plusieurs changements sont tout de même notables. Déjà, terminé l'assemblage d'objets pour gérer la place dans votre inventaire, vous aurez simplement un nombre d'objets et de compétences limitées, ce qui rend le jeu un peu plus simple à ce niveau là, et cela n'en est pas désagréable. En effet, la gestion de l'équipement se fera par mots clés : la limite est de 3 mêmes mots clés dans votre inventaire. Vous ne pouvez pas avoir 3 fois le mot clé « Compagnon » par exemple. Certaines cartes pourront avoir plusieurs mots clés, mais aussi plusieurs fois le même mot clé. Une grande hache possédant deux fois le mot clé « Arme » s'avérera particulièrement encombrante et difficile à manier.
Ensuite, le concept du deck commun est abandonné. Chacun a son propre deck et ses propres compétences, cela apporte plus de pouvoir à votre personnage, une identité plus prononcé, des archétypes plus clair et même du deck-building. De base, les personnages que nous pourrons incarner ont 15 cartes qui leur appartiennent et au fur et à mesure de vos aventures, vous pourrez ajouter des cartes et dessiner une spécialisation : un guerrier sans pitié, un roublard discret et agile, un puissant magicien ou encore un leader charismatique.
Le système des Malédictions persiste mais, maintenant, ce sont des Menaces. A chaque scénario sera attribuée une Menace, avec une histoire, un but, et plusieurs dénouements envisageables. Cette menace nous donnera toujours la mise en place de base, qui construira à travers les cartes tirées notre plateau, les ennemis et les événements, comme dans The 7th Continent.. Une nouveauté cependant: lors de chaque Menace, les personnages doivent se répartir un certain nombre de points de vie et vous n'échouez le scénario que si tout le monde tombe à 0 point de vie… Et encore, parfois la retraite est la plus bonne des décisions ! Attention cependant, si vous épuisez votre deck trop rapidement, vous perdrez des points de vie pour agir à nouveau, c'est une raison habile d'empêcher un unique joueur de réaliser toutes les actions du scénario. Mieux vaut se répartir les tâches, et ne pas brûler ses cartes trop rapidement.
En cas de trop gros danger ( ou de malchance ? ), rien n'empêchera les joueurs de rentrer à la Citadelle pour se reposer, mais cela n'est pas sans conséquence ! L'histoire progressera quand même, et le chapitre ne sera pas forcément le même à votre retour au donjon précédent.
Ensuite, on a noté la disparition du « 7 » souvent présent dans The 7th Continent. Maintenant, vous avez des icônes de classe sur vos cartes. Les icônes sont liés à un archétype, vous devrez privilégier leur présence dans votre deck selon l'orientation que vous voulez donner à votre personnage. La cape sera pour les voleurs, roublards et rôdeurs, le drapeau pour le leader charismatique, la spirale pour les magiciens et adeptes des savoirs arcaniques et enfin le poing pour ceux qui aiment foncer dans le tas.
Pour terminer sur le système, on a pu essayer un combat, vous utiliserez à présent un dé pour noter les points de vie de la créature et plusieurs lignes décriront les différentes phases d'un combat. Vous devrez passer par toutes les phases pour vaincre un monstre sur votre chemin et pour cela, vider ses points de vie à chaque ligne, sous peine de subir des conséquences peu agréables…
Les grandes nouveautés séduisantes
The 7th Citadel sera accompagné d'une grande mappemonde, sauf que cette carte représente le monde il y a un siècle, avant l'apocalypse ! Depuis votre Citadelle, vous enverrez des éclaireurs où vous le voudrez. Ils reviendront plus tard ( ou ne reviendront jamais… ) avec des informations qui modifiera la mappemonde en conséquence et vous donneront des indices cruciaux avant de vous lancer dans l'exploration des zones dévastées de The 7th Citadel.
Autre nouveauté : la Destinée. Votre base aura une valeur de production, de défense et de savoir que vous devrez améliorer, vous pourrez aussi suivre l'avancement de vos quêtes et haut-faits. Vous aurez aussi un grand arbre de compétences, vous pourrez progresser en son sein en gagnant des points d'expérience ou des cartes spéciales ( comme l'accumulation de cartes « Espoir » ) lors de vos scénarios.
Conclusion sur The 7th Citadel
Pour ma part, ce fut une très agréable découverte et expérience, un des jeux qui m'a le plus marqué lors des différents test au Festival International du Jeu de Cannes. C'est un vrai nouveau jeu par rapport à The 7th Continent, même si on retrouve des similarités. L'accent sur la narration et l'histoire nous donne un jeu prometteur, il n'y a plus qu'à attendre sa sortie pour en être sûr !
A noter que The 7th Citadel sera disponible sur kickstarter courant 2020, pas encore de date annoncée malheureusement.